We've been on a bit of a vegetable ice cream kick lately, so we thought we would switch it up a little this week. It's stone fruit season, and peaches at Weaver's Country Store in Fall Creek, WI are ripe for the buying. We picked up a case and began pondering the possibilities. In the past, we've released a few other peach flavors on our blog including our Candied Peach Cobbler and Pistachio with Peach Marmalade. This week, we're going purist, and set out to capture as much peach flavor as we could in a pint of our ice cream. Which brings us to this week's flavor – Peach with Peach Syrup. This is how we do it…
Peaches! Michigan peaches from Weaver's Country Store. First things first – we pit them and dice them up.
After meeting up with our good friend Heidi of Serious Jam, we had a discussion about how she keeps fruit from breaking down during the canning process. It so happens that Heidi's techniques are quite suitable for ice cream making. For the peaches, she suggested we try a maceration process, involving soaking the peaches in sugar and lemon juice. The process pulls liquid out of the peaches, and all of the flavors between the peaches, lemon juice and peachy liquid in the bowl equilibrate. Beautiful! After the maceration, the peaches are strained and slow roasted in the oven until their flavors concentrate even more. Once cooled, the peaches are tossed into our plain organic sugar cane ice cream base at the end of the churn. But that is not all…we still have all of the reserved liquid left from straining the peaches after the maceration.
The liquid is placed in a sauce pan and reduced down to a syrup that will not turn icy in our ice cream once frozen. This golden peach syrup is layered into the pints during packaging.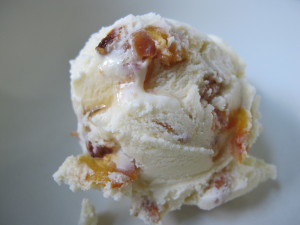 Peachy Peachy! Smooth creamy peach syrup layered ice cream with chunkers of candied peaches. It's FrozBroz pure peach goodness!
Want to try it? You can win one of the only two pints in the world, filled with this fabulous, scratch made craft ice cream in our weekly pint giveaway. Enter your name in the comments section here, or on our facebook page under the posted contest. 2 lucky winners will be drawn randomly on Friday 8/30/13 at 4pm. Winners must be able to pick up locally and give us feedback. Pints must be claimed by email within one week or we will redistribute. 🙂 Good luck!