Merry Christmas! Nostalgia runs wild this time of year, and for many many years of my life Christmas was not complete without my Grandma's Julekage. If you're not familiar, Julekage is a dense scandinavian christmas bread most definable by raisins and cardamom. We always ate it for breakfast, toasted and slathered with peanut butter – thus the inspiration for this week's celebratory flavor.
Rather than make croutons out of the Julekage which we often do with baked goods, we chose to deconstruct the Julekage and use it's main components.  For the base of the ice cream, we infused with toast scrapings to duplicate the toasted bread flavor, and paired that with cardamom.
We haven't used peanut butter enough in ice cream, it's true. For this flavor we thin it out with cream and make it into a sauce, and layer in.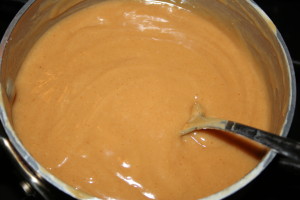 Last but not least, the raisins are added in at the end.
The final result is a cardamom and toast ice cream, swirled with peanut butter and studded with raisins.  Just like Grandma's Christmas Julekage.

You can be one of two lucky winners of this fabulous, scratch made craft ice cream in our weekly pint giveaway. Enter your name in the comments section here, or on our facebook page under the posted contest. Two winners will be drawn randomly on Friday 12/26/14 at 4pm. Winners must be able to pick up locally in Minneapolis. Prizes must be claimed by email within one week or we will redistribute. 🙂 Good luck!