Last month we put some Minnesota grown grapes to work by making our Black Pepper Grape Syrup, Pita Cracker and Chevre ice cream. At that time we tossed around the idea of making some type of wine ice cream in connection with our friend Ryan Zepaltas at Zepaltas Wines in California (
http://www.zepaltaswines.com/
, 
https://www.facebook.com/pages/Zepaltas-Wines/134095826644632
). Ryan, the winemaker himself, has been honing his craft for over ten years, and while we don't use his wine in this flavor, we can only imagine the killer results we will have when we do.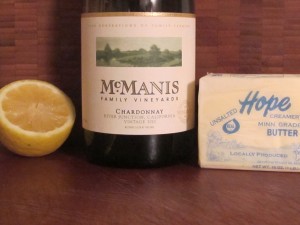 Beurre Blanc is French for "White Butter" and is traditionally made with wine, vinegar, shallots and butter. Here, we use a Chardonnay, and instead of vinegar, we use lemon juice. For everyone's sanity, we decided to leave out the shallots. But lets not forget Minnesota's own  Hope Creamery Butter.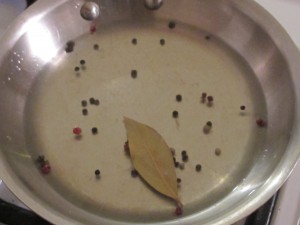 We start out with the Chardonnay, lemon juice, peppercorns and a bay leaf. This gets reduced until almost dry at which point we add a bit of cream and then remove from the heat. We add our chilled butter, incorporate, strain,  and that's it – Beurre Blanc!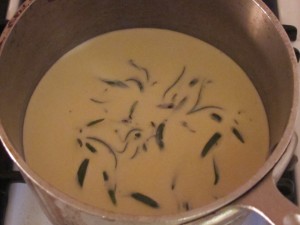 This is fresh Tarragon steeping away in our cream. We strain out the herb, add our Beurre Blanc and it all goes into the maker. Churn baby churn…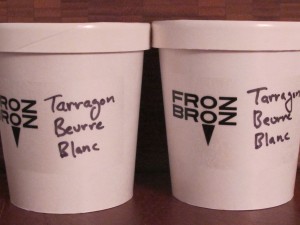 Here it is – Tarragon Beurre Blanc Ice Cream!
And as every week previous, you can win one of two available pints of this weeks flavor, just leave a comment on our facebook page to be entered into the drawing. If you don't have a facebook account, leave a comment right here on the blog. We'll draw two winners on Friday afternoon (10/28/2011) at 4pm and will announce them on our facebook page. Our only condition is you must be able to pick it up here in Minneapolis. Good luck!