The summer of berries continue.  This week is probably the peak for Rainier Cherries, so if you haven't had any yet, get out and get some.  We got ours at the Seward Co-op.  While I have a love for all varieties, these are my perennial favorite, partially because we don't see them for long when and if they get here.  That isn't to say that locally grown cherries aren't fantastic, but I was in a pinch this week and couldn't resist the chance to work with peak season Rainiers.
I only recently found out that cherry pits aren't necessarily garbage, and can be used to give desserts a more intense cherry flavor with an almond-like twist when cracked and roasted and steeped or boiled into a syrup.  Interestingly enough, it turns out the cherry pits are often used to make cheap almond extract which I always thought had tasted like cherries, and now I know why.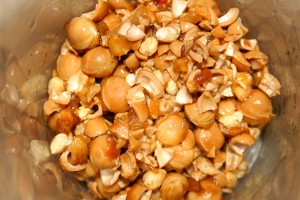 "BUT SOMEONE TOLD ME THEY'RE POISONOUS", you might be saying.  While this is technically true (they do contain a tiny amount of cyanogenic glycosides) you would need to eat a ton of them to get sick, and roasting or boiling them greatly reduces this risk (from what we've read).  They are more commonly used in cooking around the country than you might think.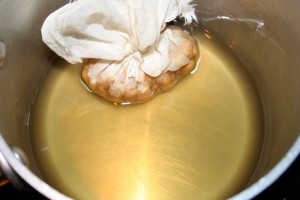 For this flavor, we boiled them into a simple syrup and steeped it with the pits.
While the cherry pit syrup was steeping, the cherries were cooked down with a little sugar and then steeped with some sprigs of lemon thyme.
The base was made with Creme Fraiche to substitute for some of the regular cream which added a nice sourness and paired wonderfully with the almondy cherry pit syrup.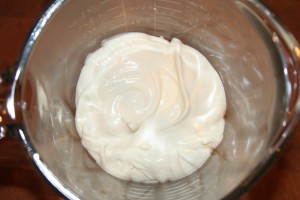 Right before churning,  a little fresh minced lemon thyme was added directly to the base as well.
The result is a dense cherry flavored ice cream with an incredibly silky texture from the creme fraiche and a nice tart kick from the sweet Rainier cherries and Lemon Thyme.  Beautiful if we do say so ourselves.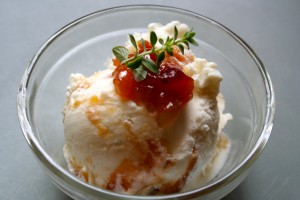 Rockin'.
Only two will have it, my precious. As we do every week, we'll be giving away two pints of this flavor. Just leave a comment on our facebook page to be entered into the drawing. If you don't have a facebook account, leave a comment right here on the blog. We'll draw two winners on Friday afternoon (7/27/2012) at 4pm and will announce them on our facebook page (or email you if you're comment resides here). Our only conditions are you must be able to pick it up here in Minneapolis, and agree to give us a little feedback that can be shared with everyone else. And we're serious about that. We'll hunt you down for feedback. Get your food critic pants on – you might be the lucky winner and inquiring minds want an objective opinion. Good luck!