We're going back to an idea that spawned during the cold months of winter. It's a flavor that has both summer and winter appeal. But in the end, the cherry wins. It's that time of year when sweet cherries are plentiful, which makes it the perfect time to bring back last winter's flavor idea – Coffee Cherry. Let's get started…
These are Peace Coffee beans roasted right here in Minneapolis. In particular, we are using their Guatemalan Dark roast, which provides a bitter dark and oily grind that works very well for our coffee infusion. The beans are ground, steeped while we cook our base, and then strained out with a fine mesh strainer. The base is cooled and ready for churning.
Next, Cherries! Cherries from Barnard Farms in Michigan. These cherries are dark, sweet and robust, which will complement our coffee infused ice cream. Think bold flavors…that's we have here. We clean and pit the cherries, then simmer them down with sugar and a bit of lemon juice. The cherries and their syrup are added into our coffee ice cream after it is churned.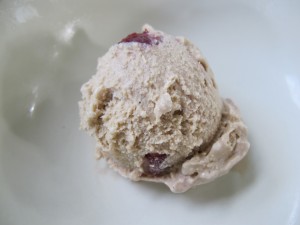 Coffee Cherry ice cream…a cold weather idea to warm your summer soul. And for those supportive CSI full share members, this was part of your July CSI share. Cheers!
On the bright side, if you're not a Full Share memeber, you can be one of two lucky winners of this fabulous, scratch made craft ice cream in our weekly pint giveaway. Enter your name in the comments section here, or on our facebook page under the posted contest. Two winners will be drawn randomly on Friday 8/1/14 at 4pm. Winners must be able to pick up locally. Prizes must be claimed by email within one week or we will redistribute. 🙂 Good luck!