'Tis the season of forming a solid leftover strategy.  Turkey, mashed potatoes, pie, veggies, breads, desserts – you name it, and its probably stacked in a container somewhere in your fridge.  Some find the form of a hotdish, others make for perfect sandwich toppings.  No matter what, if you're going to make the best of it, creativity is key.
So as it happens, this flavor just fell into our laps.  These "cutout" Christmas cookies have been a staple in my family for ages.  We've had them every year as far back as I can remember.
But they don't end at Christmas. Once the holidays are over the cookies go on…and on.  Since my Mom makes enough of these delicious cooks to feed a few families for several months, we thought we'd take some off her hands and put them to good use.
Now, this isn't a super challenging flavor by any stretch of the imagination.  But we did need to figure out a way to cut the extra sweetness of the already iced cookies in the sweet cream.  So to counter it, we chose to use our sour cream base to provide a nice subtle hint of acidity to balance the extra sugar.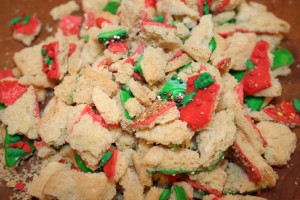 For the big finish, the cookies are crumbled  into the base at the end.   Its the holiday FrozBroz interpretation of Cookies and Cream.
And that's that.  Sometimes simplicity rules, and in this case its hard to lose.
Like to win a free pint?  Per the weekly drill, we'll be giving away two pints of this flavor. Just leave a comment on our facebook page to be entered into the drawing. If you don't have a facebook account, leave a comment right here on the blog. We'll draw two winners on Friday afternoon (12/30/2011) at 4pm and will announce them on our facebook page. Our only conditions are you must be able to pick it up here in Minneapolis, and be willing to give us a little feedback that can be shared with everyone else. Good luck!