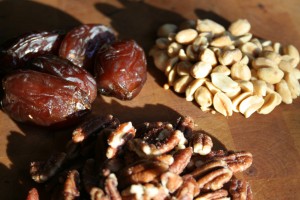 Both of us "Broz" have relatives in Virginia and have spent  time there enjoying various foods of the South.  It certainly ranks high among our faves in regional cuisine, what with the smoke and fat and all.
Now, I'm not claiming that the origin of the peanut butter and walnut stuffed dates necessarily began in Virginia, but it seems logical to me, and was where I experienced them first – so I'm running with it.
I hated dates as a kid, but these indulgent handfuls of sugar quickly corrected my bad attitude.  The idea of turning this into an ice cream flavor has lingered on our list for awhile, but when I recently picked up some Medjool dates from the co-op, it jumped right to the top.
To start: the peanut butter. Since we didn't have a source for locally made peanut butter at our fingertips, we made it ourselves.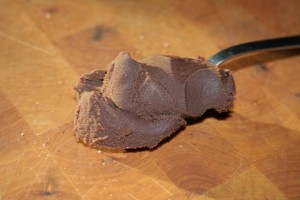 but first…..
Luckily, I happened to have some dark chocolate cream handy from making  batch of our 3x Chocolate, and incorporated just enough into the peanut butter to darken the color and enhance the roasted flavor.
Peanut Butter, Froz style…
Then those precious Medjools….
The date that inspired this recipe is rolled in sugar once it's been stuffed to give it an extra layer of crunch and added sweetness.  For this incarnation, the gooey dates were diced first and then tossed around in granulated sugar to give that graininess some representation in the ice cream.
They sought each other out like velcro, so they had to be seperated and frozen before incorporating into the cream.
To finish, the base was blended with the chocolate peanut butter, and the pecans and dates were tossed in at the end.
Like to try some? As we do every week, we'll be giving away two pints of this flavor. Just leave a comment on our facebook page to be entered into the drawing. If you don't have a facebook account, leave a comment right here on the blog. We'll draw two winners on Friday afternoon (2/24/2012) at 4pm and will announce them on our facebook page. Our only conditions are you must be able to pick it up here in Minneapolis, and be willing to give us a little feedback that can be shared with everyone else. Good luck!