We're heading into our favorite time of year where we get to rely on fresh locally grown produce for what seems like such a short time.  Because of this, we basically turn into skipping records for 3-4 months obsessed with how much fun it is to experiment with all of these fresh flavors.  This time it's Watercress. It's readily available but not exactly easy to find, and why not jump at the chance to infuse this delightfully peppery plant into ice cream and see what magic happens?
When we start with new flavors like this we often find ourselves dealing with the temptation to build on top of them with other flavors – rather than let the singular flavor own the ice cream.  In this case, I didn't want anything to distract so its simply fresh watercress from Viroqua, Wisconsin steeped in our sweet cream base.  Sometimes simplicity produces complexity.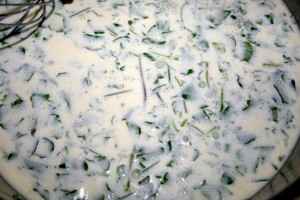 The ice cream takes on just a slight hint of green from the steep, and gets a nice tint of earthy pepper-ness from the Watercress greens.  An appropriate introduction into our summertime flavor adventures.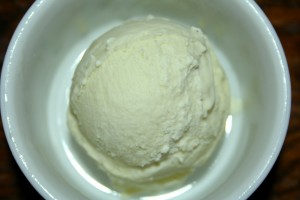 Like to try some? You can be one of two lucky winners of this fabulous, scratch made craft ice cream in our weekly pint giveaway. Enter your name in the comments section here, or on our facebook page under the posted contest. Two winners will be drawn randomly on Friday 5/30/14 at 4pm. Winners must be able to pick up locally. Prizes must be claimed by email within one week or we will redistribute. 🙂 Good luck!