This flavor in particular was inspired by a good friend of ours, Chef Karla Schmitt who gave us our first opportunity to bring our ice cream (in its very early stages) to the public.
In one of our first meetings with Karla, she explained a dessert she hoped to serve revolving around Beignets and Chicory.  The original idea was to serve the famous New Orleans pastry with a Chicory ice cream.  Her fantastic idea led us down the path to discovering Chicory as one of our favorite ice cream flavors.
Chicory is better known for its close relatives more famous to most people as Belgian Endive, Radicchio – two favorites across the globe for salads, grilling, and braising.  The Chicory we use for our ice cream is root chicory used most commonly when roasted and ground to be a coffee substitute.
In this case, we've found a French Chicory that has a great complex chicory flavor and is available as an extract – perfect for incorporating into our base.
It is coffee like in its flavor – but claims more of a bold cocoa and caramel flavor that is has a fantastic depth which works amazingly well for ice cream.  For this particular idea, we took Karla's dessert plate and combined it into a single ice cream, substituting Beignets for Belgian waffles.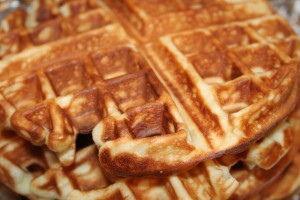 Who doesn't like waffles?
The trick with this flavor is similar to many of the former we've posted and developed – waffles in their original state are too frail and contain too much moisture to hold up in an ice cream base.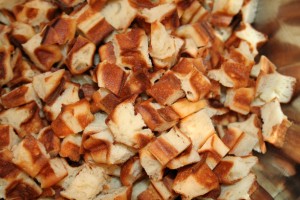 So as you've seen us do before – we dice the waffles into small cubes, and bake them off to provide a crunchy waffle like crouton that holds up and retains its texture while retaining the honest waffle flavor.
Add waffle bits, and that is that.  A deeply complex coffee caramel ice cream studded with crunchy bits of Belgian waffle.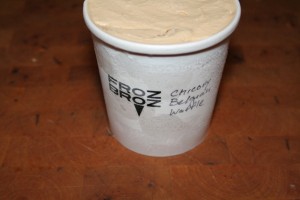 Time for breakfast!
Like to try some?  As we do every week, we'll be giving away two pints of this flavor. Just leave a comment on our facebook page to be entered into the drawing. If you don't have a facebook account, leave a comment right here on the blog. We'll draw two winners on Friday afternoon (1/27/2012) at 4pm and will announce them on our facebook page. Our only conditions are you must be able to pick it up here in Minneapolis, and be willing to give us a little feedback that can be shared with everyone else. Good luck!