Spring is here and we are nearing the beginning of the growing season here in Minnesota. But before we get too far ahead of ourselves, we still have a few winter flavors to download on y'all. This week's inspiration came from chef Linton Hopkins of Restaurant Eugene in Atlanta. Reading a publication, I ran across his recipe for cheese pie, which included a number of different components including a juniper ganache made with white chocolate and juniper berries. That's it! This week's flavor was born – White Chocolate Juniper. Shall we?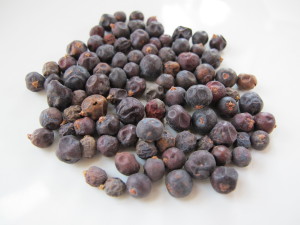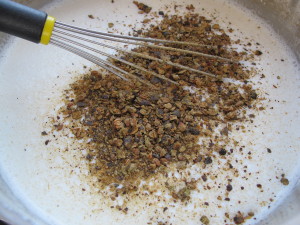 These are juniper berries from Penzeys Spices. If you are wondering what juniper tastes like, pour yourself a shot of gin, as gin is flavored with juniper berries. The have a pungent pine flavor to them. For our ice cream base, we want to infuse the base with juniper, so the berries are crushed and added in. The ice cream base is cooked infusing the cream with juniper. Next is the addition of white chocolate.
This is 100% organic cocoa butter. Cocoa butter is the fat that is extracted from the cocoa bean. Generally, chocolate is made with a combination of cocoa butter, cocoa powder and sugar. White chocolate, on the other hand, is made using cocoa butter, sugar, vanilla, and usually, milk powder. It smells strong of cocoa powder, but is quite plain in flavor…almost flavorless. When in your mouth, it melts easily, and hits the same area on your palate that a bitter dark chocolate would, but it is very mild. We thought we would try and make a white chocolate ice cream from scratch, and since two of the major components to white chocolate are already in our ice cream (dairy, sugar), this seemed to be a no-brainer. After the the crushed juniper berries are infused into the ice cream base, we whisked in vanilla and cocoa butter to the hot base. The mixture is strained, and a few of the left over crushed juniper berries are added back into the base. The base is cooled and is ready for the churn.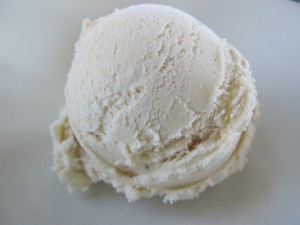 White Chocolate Juniper ice cream! The juniper and white chocolate combine in harmony as their bitter qualities are tamed by the sweet cream vanilla base.
Like to try some? You can be one of two lucky winners of this fantastic, scratch made craft ice cream in our weekly pint giveaway. Enter your name in the comments section here, or on our facebook page under the posted contest. Winners will be drawn randomly on Friday 4/25/14 at 4pm. Winners must be able to pick up locally. Prizes must be claimed by email within one week or we will redistribute. 🙂 Good luck!