Summer harvest is in full swing, and to utilize the bounty we're bringing together herbs and berries.  Like our friend Heidi of Serious Jam, we're bringing together sage and blueberries. An unlikely paring maybe, but hit up the farmers market this weekend and get your hands on a jar of her blueberry bourbon sage jam. You won't be sorry. You won't be sorry if you win a pint of our ice cream this week either. Here's how we're going to go about this week's flavor – Sage Blueberry.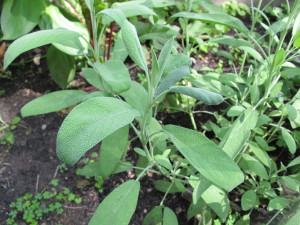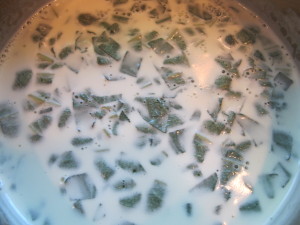 First, we're going to establish a sage ice cream base. As we often do with fresh herbs, we're going to infuse our standard cane sugar ice cream base by steeping the herbs during the pasteurization process. The sage is chopped, steeped, and then strained out. We chill down the infused base, and it's ready to churn.
Next, we're going to make a freezer type blueberry jam using these blueberries from the Rabideaux's Bayfield Fruit Company. The blueberries are crushed, lemon juice and sugar are added, and the jam is simmered down until proper consistency is achieved. After the jam is cooled, it is swirled into the sage ice cream during the packaging process.
Utilizing the bounty one ingredient at a time. Earthy sage infused ice cream with ribbons of local blueberry jam.
Sage Blueberry
Ice Cream Base:
2 cups Heavy Cream
1 cup Milk
3/4 cup Cane Sugar
2 Eggs
1/4 cup Sage, chopped
1 teaspoon Sea salt
Blueberry Jam:
2 cups Blueberries
1/2 Lemon, juiced, seeds removed
3/4 cup Cane Sugar
Instructions:
1. Make blueberry jam: Place a plate in the freezer. Place blueberries in medium sauce pan. Using a potato masher, crush blueberries(leave some whole). Add lemon juice and sugar, and bring to a boil over high heat, stirring frequently. Cook and stir until bubbles subside and jam appears slightly thickened, about 15 minutes. To test doneness, spoon a small amount onto the chilled plate. If jam wrinkles when you push your finger into it, it is done. If not, cook and stir a little longer before testing again. Let cool; cover and chill completely.
2. Make ice cream base: Crack eggs into a mixing bowl and whisk fully.  Add cane sugar and whisk.  Add heavy cream, milk, and salt.  Whisk until ingredients are combined. Add Sage.
3. Cook/pasteurize ice cream base: Over medium heat, whisk or stir base continuously until temperature reaches 165-170 degrees.  Remove from heat. Allow sage to steep for 10 minutes. Strain base into a clean bowl with a fine mesh strainer. Cool ice cream base to room temperature (an ice bath will do this in about 15-20 minutes). Cover base, and chill in refrigerator overnight.
4. Churn ice cream base in ice cream machine according to manufacturer's instructions. Swirl in blueberry jam after ice cream is in storage container. Store ice cream in air tight container in freezer until chow time.
*Yields approximately 2.5 pints
If you'd rather not make it, you can be one of two lucky winners of this fabulous, scratch made craft ice cream in our weekly pint giveaway. Enter your name in the comments section here, or on our facebook page under the posted contest. Two winners will be drawn randomly on Friday 7/31/15 at 4pm. Winners must be able to pick up locally in Minneapolis. Prizes must be claimed by email within one week or we will redistribute. 🙂 Good luck!