Here in Minnesota Spring is in the air, which is a little weird since it has felt like Spring for about two months now. This new season brings us much anticipation of a whole range of new flavors that the Minnesota harvest will bring. And thanks to our pals over at Bossy Acres, the harvest has already begun. If you don't know Bossy, it's time you "liked" them and followed them on Facebook and Twitter. Karla and Elizabeth of Bossy Acres are growing local, sustainable, organic produce right here in the city of Minneapolis, along with a small two acre plot in Dayton, MN. Not only are they growing a wide range of vegetables, gourmet salad mixes, micro greens, herbs, and sprouts, they are truly great stewards of our community.
Thanks to their efforts at their "urban ag site", we picked up some of these gorgeous pea shoots for this weeks flavor: Sweet Pea Mint
These beauties are no joke. They offer a ton of sweet pea flavor and a nice crunchy pop. The question is: how do I get that sweet pea flavor into the ice cream?
These shoots are gold, and knowing the time and effort Bossy put into growing these really had me thinking about the best way to go about things. This is the point where I could go off about how important it is to know where your food comes from, and starting a relationship with your local farmers, purveyors and businesses, but I will spare you for another day.
I decided to separate the stems from the leaves. The stems got tossed into the cream for a steeping session along with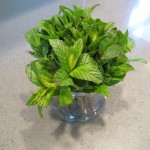 some of the leaves from this lucious mint from the Wisconsin Growers Cooperative.
After steeping, the mixture gets strained of all solids.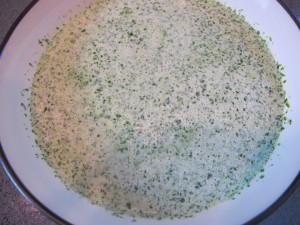 At this point the base took on a light green hue. The flavors were all there, but I really wanted more of that sweet pea flavor to envelop the cream, so I took the separated fresh pea shoot leaves and processed them finely in the food processor.
The sweet pea leaves get added into the strained sweet pea mint cream base and then into the mixer for a churn.
The result…
FrozBroz Spring flavors comin atchya with Sweet Pea Mint ice cream! At first bite the sweet pea flavor hits hard followed by a blast of mint then blending together like two peas in a pod.
As we do every week, we'll be giving away two pints of this flavor. Just leave a comment on our facebook page to be entered into the drawing. If you don't have a facebook account, leave a comment right here on the blog. We'll draw two winners on Friday afternoon (4/27/2012) at 4pm and will announce them on our facebook page (or email you if you're comment resides here). Our only conditions are you must be able to pick it up here in Minneapolis, and be willing to give us a little feedback that can be shared with everyone else. Good luck!
Would you like to see more of this kind of ice cream or be able to buy it online?  Then please, help us with our fundraiser on indiegogo, we only have 15 days left and need all the help we can get! And in exchange you'll be one of the first to get our ice cream.  Visit our page at www.indiegogo.com/frozbroz