Red Peppers are another one of those summer veggies that are deceivingly sweet, especially when they are fresh out of the dirt.  I've been obsessing about ice cream flavors involving red peppers every summer, but its taken nearly 2 years for me to get to it on the list.  Once I finally decided the time had arrived, then I had to decide what and how.  I'd contemplated a full red pepper infused ice cream.  A romesco inspired flavor was another conceptual flavor.  Yet another was a Pimiento cheese which red pepper is a star of.   We will likely come back to all fo these in time.  In the end, I decided on  a variation that curved away from all of those, utilizing the pepper as a sweet jelly and combining it with cream cheese.  If you've ever had cream cheese covered in red pepper jelly, you know where I'm headed.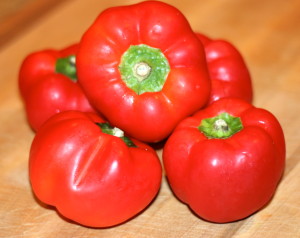 The first step was to roast the peppers to concentrate the sugars and get the skins off.
Once clean, the roasted peppers were pureed up coarsely, combined with our good friend sugar, some lemon juice and simmered down to a sweet jelly like consistency.
For an added crunch, I chose to go with blanched, slivered almonds to provide a contrast in texture without overwhelming in flavor.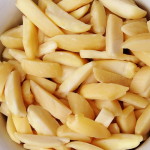 Went with our cream cheese base, sprinkled in the slivered almonds during the churn and layered in the sweet red pepper jelly as it went into the pint.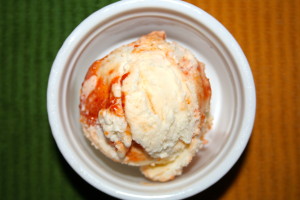 And there you have it.  End of summer heaven – lucious cream cheese ice cream, studded with crunchy slivered almonds and rippled with red pepper jelly.

Want to try it? You can win one of the only two pints in the world, filled with this fabulous, scratch made craft ice cream in our weekly pint giveaway. Enter your name in the comments section here, or on our facebook page under the posted contest. 2 lucky winners will be drawn randomly on Friday 9/5/13 at 4pm. Winners must be able to pick up locally and give us feedback. Pints must be claimed by email within one week or we will redistribute. 🙂 Good luck!