Christmas is now in the rear view mirror as is most of 2013, which means New Years eve celebrations are almost upon us.  New Years eve is synonymous with indulgence in good food, and good drinks, and like last year's White Chocolate Pop Rocks w/ Champagne caramel, we wanted to do something apropos.  Where I come from,  no good party happens without a plate full of good cheese.  Likewise, a plate full of good cheese pairs fantastically with good wine, and that brings us to this week's flavor, Manchego w/ Zinfandel Caramel.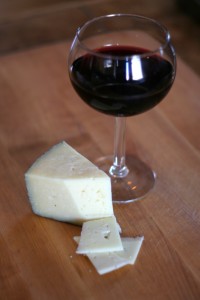 This flavor starts with my one of my favorite Spanish Manchego.  Its a spanish cheese from the La Mancha region, and this particular selection is a raw milk manchego.  Its buttery, with a nice salty bite and a great cheese-y flavor that pairs incredibly well with fruit and a bold red wine.
For the foundation of this flavor, the manchego went into the cream 2 ways- some was finely grated and melted into the base during the cooking process.  More was coarsely grated and tossed in at the end to provide an extra oomph with the occasional bite of cheese.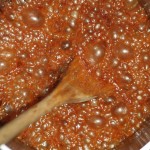 The caramel begins as a standard sugar and water recipe, but is finished with a bit of cream to cool it first, and then the zinfandel right at the end to ensure the flavor doesn't boil off.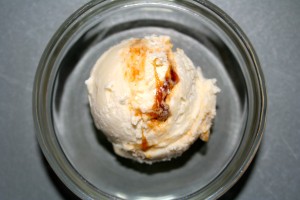 The caramel is swirled into the ice cream as its packed into the pint.  It is a wonderfully rich, manchego ice cream decorated with ribbons of zinfandel caramel.

Like to try some? You can win one of the only two pints in the world, filled with this fabulous, scratch made craft ice cream in our weekly pint giveaway. Enter your name in the comments section here, or on our facebook page under the posted contest. 2 lucky winners will be drawn randomly on Friday 12/27/13 at 4pm. Winners must be able to pick up locally and give us feedback. Pints must be claimed by email within one week or we will redistribute. 🙂 Good luck!