We're no strangers to donuts in our ice cream, which has us always looking for better varieties and shops around town. This week, thanks to our friend Heidi, we found a new shop. Well, new to us at least, although it's been around since 2008 – SugaRush. Keoni Nguyen, owner of SugaRush, along with his son, are making some of the best classic donuts around, such as the bear claw, long johns, and bismarcks. His dough is nothing but perfection, being sweet, tender and yeasty, while maintaining a light airiness about it. These donuts are destined for our ice cream. And so the pursuit began to deconstruct one of my favorite classics: the maple long john. This week we're calling it our Donut with Maple Caramel. Shall we?
This is one of SugaRush's glazed raised donuts. Dear lord these are amazing. They aren't reinventing the wheel here, but they are making an exceptional dough, which leads to an exceptional donut. You must go try one for yourself. The raised donut is the building block for the maple long john, so for the ice cream, this is our starting point. In order for the donuts to hold up in the ice cream, I decided to make croutons out of these glazers. They're diced and then baked in the oven until crunchy. The croutons go into the ice cream at the end of the churn.
Next, the "maple glaze". I made the decision to go with a maple caramel for the glaze portion, because I thought a traditional glaze would disappear in the ice cream. First, our sugar is caramelized, at which time cream is added followed by our maple syrup. The maple syrup thins out the caramel nicely while adding natualy maple flavor to the caramel. The caramel gets layered into the pints during packaging.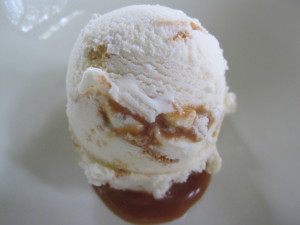 Donut with Maple Caramel. Consider this a better variety – a play on the classic maple long john.
Want to try it? You can win one of the only two pints in the world, filled with this fabulous, scratch made craft ice cream in our weekly pint giveaway. Enter your name in the comments section here, or on our facebook page under the posted contest. 2 lucky winners will be drawn randomly on Friday 11/8/13 at 4pm. Winners must be able to pick up locally and give us feedback. Pints must be claimed by email within one week or we will redistribute. 🙂 Good luck!