Summer has arrived, and that usually means the local strawberry season is nearing its end here in Minnesota. This years season happens to be late, but for my family, the ending harvest means one last memorable dessert. My son's birthday is June 24th, which inspired me to start a tradition of making him strawberry shortbread with vanilla ice cream.
Agreed, we're not reinventing the wheel here, but we think putting shortbread and strawberries into our ice cream is a really good idea. Especially when we add a bit of tartness with sour cream.
Organic strawberries from Hoch Orchards in La Crescent, MN – Foxy! They're going in.
Some of them we roast in the oven. Some of them we don't. These? – Roasted!
We make these shortbread croutons with flour, butter and sugar. These guys like to soak up all that sweet strawberry cream.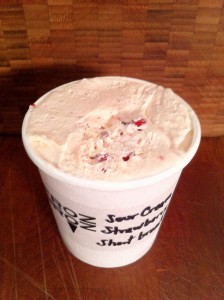 This is it: FrozBroz style Sour Cream Strawberry Shortbread ice cream.
To win a pint from the blog this week, be the first to accurately guess in the comments section where "Strawberry" ice cream ranks on the list of popular ice cream flavors .  To be fair, if you won the week previous you can't win this week.