This week, it seems appropriate to head back down a path we explored on paper but never really materialized; Sumac. After releasing our Coconut Hibiscus and Lime last week, it felt natural to break out another one of our plant based ice creams. Also, we were flavor-bombed in a Facebook message last week with suggestions like: Cranberry Sumac Sorbet, Wild Rice Pudding with Maple Syrup and Juniper Berry, and Lingonbery-Ginger Snap Swirl. It made it hard not to move some of these ingredients to the top of our list, as they've hung in limbo in the past. Andy Wright, we consider those to be damn good suggestions, so just consider yourself an "appreciated flavor genius", k? But, instead of going down the cranberry sumac sorbet route, we solidified this week's ice cream flavor into a Sumac with Apricot Carrot Jam. Let's get it on…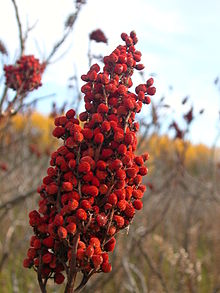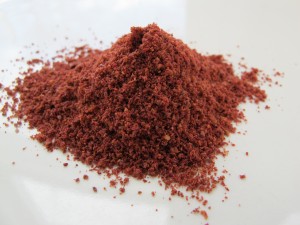 This is a fruiting sumac bush, photo taken at the Hyland Park Reserve in Bloomington, MN(photo cred: unknown). And yes, sumac is the Fall plant we all know so well here in Minnesota that turns fiery red along our highways in September and October. And yes, it's going into our ice cream. Sumac berries similar to these, but of a different variety, are ground into powder, as shown above, and used quite often in Mediterranean and Middle Eastern cuisine. The ground berries possess a very subtle lemon flavor with some earthy notes that will set a nice backdrop for this week's flavor. The ground sumac is steeped in our cane sugar ice cream base and strained out before churning.
For the next component, I knew I wanted to utilize these beautiful dried Turkish apricots. It had also been suggested, as of late, that we make a flavor with carrots. Carrots, listen up; we're just getting started with you; this is only the beginning of a long relationship with you in our ice cream. Had to get that off of my chest. The carrots, together with the apricots, will bring a naturally sweet element to the ice cream, as well as contribute to the driving Mediterranean-esk theme. Everything is falling into place. For the jam, the apricots and carrots get diced and tossed in a sauce pan with water and sugar.
They're simmered down until soft and caramely, at which time, we used an immersion blender to puree into a jam-like consistency. The apricot carrot jam is layered into the pints during packaging.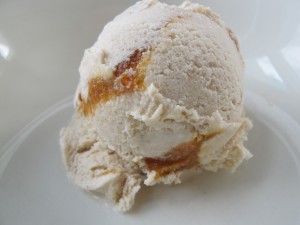 Sumac with Apricot Carrot Jam! The sumac provides a subtle backdrop of earthiness, followed by the sweet apricot carrot jam that brings it all together and materializes into something other than old thoughts on paper.
Want to try it? You can win one of the only two pints in the world, filled with this fabulous, scratch made craft ice cream in our weekly pint giveaway. Enter your name in the comments section here, or on our facebook page under the posted contest. 2 lucky winners will be drawn randomly on Friday 4/26 at 4pm. Winners must be able to pick up locally and give us feedback. Pints must be claimed by email within one week or we will redistribute. 🙂 Good luck!