Ok, so this week we are going to test your inner most ice cream love. And not just your inner love, but your preception of ice cream love. And not just your percieved love, but your adventurous ice cream love.
On a recent trip to Pizzeria Lola my wife and I ordered one of the weekly specials: pizza topped with asparagus and truffle honey. Not only does Lola live up to all hype given, but this weekly pizza special was off the charts good. The idea resinated immediatley, and I couldn't stop thinking about my process and how I would break it down into ice cream. Once asparagus hit the local farmers market, we were on it. Let's get started with this week's flavor, Asparagus with Truffle Honey.
Asparagus from the Midtown Farmers Market.
We cut off the tips and blanch them in boiling water to soften up and bring out their vibrant green color. We reserved the staulks and grilled them for delicious eats guys. After blanching, into the food processor for a spin. The puree is added into our organic cane sugar ice cream base right after cooking. We give it a generous salting and the solids are strained out through a fine mesh strainer. The asparagus ice cream is ready for churning.
Now that the asparagus ice cream is done, we're ready to make our truffle honey. We were lucky enough to get our hands on some of the last remains of Nordeast Nectars honey. Last year many of their bees died off, but thankfully their queen is still alive. This year Britt Lundberg and her neighborhood crew are making efforts to regroup, and hopefully, with a name change, new packaging, and much hard work, we will see more of this local liquid gold from them. To make the truffle honey, we stir a small amount of truffle oil into the honey. The oil becomes suspended in the honey. The truffle honey gets layered into the pints during packaging.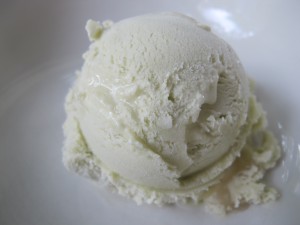 Asparagus with Truffle Honey! It's creamy asparagus ice cream with an itital burst of truffle flavor leading into a sweet honey finish. Testing your inner love, perceptions and adventures in ice cream. Love, FrozBroz
Want to try it? You can win one of the only two pints in the world, filled with this fabulous, scratch made craft ice cream in our weekly pint giveaway. Enter your name in the comments section here, or on our facebook page under the posted contest. 2 lucky winners will be drawn randomly on Friday 6/21/13 at 4pm. Winners must be able to pick up locally and give us feedback. Pints must be claimed by email within one week or we will redistribute. 🙂 Good luck!