This flavor falls in line with the Caribbean influence we've had over the last couple of months, as well as with some of the spiced ice creams we've been experimenting with, such as Baharat. The idea hit a few weeks back when I was preparing a Jerk paste to be used for some grilled chicken.  With sweet spices like Cloves, Cinnamon, Nutmeg and Allspice, and a good amount of brown sugar making up the majority of the Jerk seasonings, I couldn't help but begin to think of ice cream.  Add in a dark rum caramel to round out those Jamaican flavors,  and you have a winner.
For this flavor, some of the savory elements of traditional Jerk seasonings have been left out, primarily the onion and garlic.  The primary components of this flavor are those aforementioned sweet spices, as well as thyme  and a habanero pepper to provide the heat that "Jerk" is known for.  Since the spices are almost identical to what many identify as the "pumpkin pie" flavors, the pepper and herb are essential to keeping a dividing line between the Thanksgiving dessert and the Caribbean spice.
Since Brown sugar is often used when making Jerk seasoning, I went with our brown sugar base for the foundation of the ice cream.
The spices, and the sole habanero are blended into the brown sugar base to steep while it is cooked.
The caramel begins with brown sugar, and is combined with molasses.  Rum is often made from molasses, and since rum burns off with the heat from the cooking process, we use molasses in its place.  A bit of real rum is added to the caramel after it cools, so as to not lose the alcohol to evaporation from heat.
Once we've spun the Jerk ice cream base, we layer the dark rum caramel in as we pack the pints.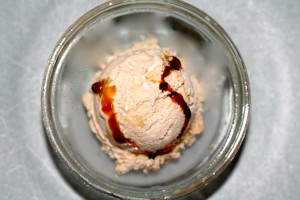 The resulting ice cream is a rich, spicy brown sugar Jerk ice cream with rivers of dark rum caramel.
Want to try it? You can win one of the only two pints in the world, filled with this fabulous, scratch made craft ice cream in our weekly pint giveaway. Enter your name in the comments section here, or on our facebook page under the posted contest. 2 lucky winners will be drawn randomly on Friday 6/14/13 at 4pm. Winners must be able to pick up locally and give us feedback. Pints must be claimed by email within one week or we will redistribute. 🙂 Good luck!