Avocados and Pistachios are two of my all-time favorite things.  The original intention for this flavor was going to focus solely on pistachios, but the more I pondered on how that would happen, the more all of these ingredients crept into the picture.  I love that the green color give to the ice cream by the avocado plays some visual tricks. I loved that it looked like a pistachio ice cream.  It could also be mint chocolate chip at a glance.  Except it's not.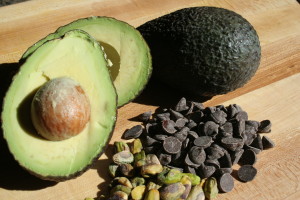 The avocado is the first step of the ice cream and is the base of the flavor.  Avocados lend a great subtle flavor to ice cream, and ironically, actually remind me of pistachio flavorwhen in ice cream.  Maybe it's just that green color.  The avocados are pureed with cream and then mixed into our standard ice cream base.  Also, if you don't have a good stick blender, do yourself a favor and get one. You'll use it a ton.  It's one of my favorite kitchen tools.
The pistachios are roasted and salted.  I highly recommend buying the pistachio meats if you can – shelling enough pistachios for a batch of ice cream is not a task I would wish on most people.  It helps to roast the pistachio meats quickly at a high temp to keep them from softening too much.
Finally the chocolate chips – are added in after the churn.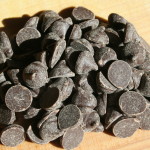 The combination of flavors is really unique – but works fantastically well.  A rich
avocado ice cream, filled with roasted pistachios and chocolate chips.
Avocado Pistachio Chocolate Chip Ice Cream
(makes approx 1-1/2 quarts)
Ingredients:
1 Large avocado or 2 small
1/2C Pistachio nutmeants, roasted
1/2Tbsp of Butter
1/2C Chocolate Chips
2 Cups Heavy Cream
1 Cup Whole Milk (use any fat percentage you prefer – higher lends to a creamier base)
3/4C Sugar
2 Eggs
2 teaspoons salt
Instructions:
1. Prepare the pistachios: Preheat oven to 350 degrees.  Melt butter and Toss pistachios melted butter and spread on sheet pan.  Generously sprinkle 1teaspoon of salt over the pistachios and place in oven for 5-8 minutes.  Remove, set aside and let cool completely.  Once cool, place pistachios in freezer bag or container and place in freezer until ready to go in ice cream.
2. Prepare the avocado ice cream: Puree avocado with the one cup of whole milk you will be using for the ice cream base and set aside.
Crack eggs into a mixing bowl and whisk fully. Add sugar and whisk until sugar and eggs are combined. Add cream, avocado puree, vanilla and salt and whisk again until all are fully incorporated.
Place ice cream base in a pot over medium heat, stirring continuously. Continue to heat mixture until temperature reaches 165 degrees. Remove from heat.  Cool the ice cream base to room temperature (an ice bath will do this in about 15-20 minutes) and then place in a container, cover, and chill in refrigerator overnight.
3.  Churn ice cream base in ice cream machine according to manufacturer's instructions. Add pistachios and chocolate chips in last 5 minutes of the churning process.  Freeze in a tightly covered container for at least 4 hours, preferably overnight if you can wait.  Then, enjoy!
*Yields approximately 2.5 pints
If you'd rather not make it, you can be one of two lucky winners of this fabulous, scratch made craft ice cream in our weekly pint giveaway. Enter your name in the comments section here, or on our facebook page under the posted contest. Two winners will be drawn randomly on Friday 4/3/15 at 4pm. Winners must be able to pick up locally in Minneapolis. Prizes must be claimed by email within one week or we will redistribute. 🙂 Good luck!