Seriously, we're doing this. It has been a long time coming, but we finally stepped up and made this thing happen. Fried chicken, waffles, maple syrup, brown butter and ice cream? Hell yes! If you've ever ordered chicken and waffles at a restaurant, you couldn't tell me that it all wouldn't be better with a scoop of ice cream on top. And instead of putting the ice cream on top, this week we're going to break it down and put it all in the ice cream. So come on, let's do this Chicken and Waffles Frozbroz style.
First thing we're going to work on is the ice cream base. I contemplated swirling maple syrup right into the ice cream for this one, but I wanted that maple flavor prevailing throughout, so I decided to use maple sugar as a sweetner for the base. Also, wanted to try and deepen the maple flavor with some caramel tones, so I went with a half and half mix of maple sugar and brown sugar. Question: would waffles be complete without butter? No, they wouldn't. That's the answer. Not just butter though, because plain butter tends to get lost in ice cream, so I'm going with it's much more flavorful iteration; brown butter. This will also bring extra depth to the ice cream base adding a nutty component. Once the ice cream base is pasteurized, it's cooled and ready to churn.
Next, we're preppin the fried chicken. Well, fried chicken skin anyway. This has always been our hesitation with this flavor, for how it will hold up in the ice cream. I wanted an ultra crispy skin, and after a little research, I decided to use a technique used by chef Matthias Merges of Yusho in Chicago.  These are skins from the chicken thigh. They're laid out on a sheet pan lined with parchment paper and salted. Another piece of parchment is placed over the top, and then sandwiched with another sheet pan. Into the oven and drained on paper towels, these are incredibly crispy salted chicken skins. They're amazing actually! We chop them up, and they go into the ice cream at the end of the churn. It turns out that they're crispiness doesn't hold up that well in the ice cream, but the skin is so fried, that the little bits almost dissolve into salty chicken flavored pockets within the ice cream. It's a good thing, trust me.
Next, Belgium waffles! I recently got a waffle maker, so I have been making a lot of waffles for our family on the weekends. Belgium waffles do differ from a classic waffle. They're more tender, airy and spongy all at the same time. To achieve that texture, the eggs are separated. Here's the difference: the egg whites are beaten to stiff peaks and folded into the waffle mix. After a ride in the waffle maker, we have Belgium waffles. But that's not all. They're going to take another ride through the oven after chopping them up into croutons. This process will dry them out a little more, and allow them to hold up in the ice cream. The waffle croutons are tossed into the ice cream at the end of the churn along with the fried chicken skin.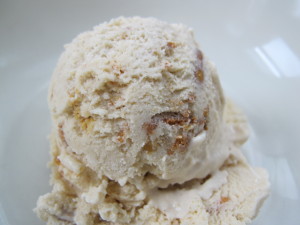 Maple brown butter ice cream with bits of salty fried chicken skin and Belgium waffle croutons. Chicken and Waffles Frozbroz style!
Chicken and Waffle Ice Cream
Maple Brown Butter Ice Cream Base:
2 cups heavy cream
1 cup whole milk
2 large eggs
1/3 cup maple sugar
1/3 cup light brown sugar
2 Tablespoons butter
1 teaspoon sea salt
Fried Chicken Skin:
3 chicken skins, removed from thigh
Kosher salt
Belgium Waffle Croutons(This makes more waffles than you need):
2 cups AP Flour
4 teaspoons baking powder
1/4 cup sugar
1/2 teaspoon salt
2 cups milk
1/2 cup canola oil
2 eggs, separated
1 teaspoon vanilla extract
Instructions:
1. Prepare brown butter: Place butter in saute pan and simmer over high heat until brown. Remove immediately and reserve
2. Make ice cream base: Crack eggs into a mixing bowl and whisk fully.  Add maple and brown sugar and whisk. Add heavy cream, milk, and salt. Whisk until ingredients are combined.
3. Cook/pasteurize ice cream base: Over medium heat, whisk or stir base continuously. Whisk in reserved brown butter between 110-140 degrees. Keep stirring continuously until temperature reaches 165-170 degrees. Remove from heat and cool to room temperature (an ice bath will do this in about 15-20 minutes). Strain base through a fine mesh strainer and put base in a clean container, cover, and chill in refrigerator overnight.
4. Prepare crispy chicken skin: Preheat the oven to 375 degrees. On a parchment lined baking sheet, lay out chicken skin flat. Salt skins and cover with another piece of parchment paper. Sandwich with another sheet pan on top and place in the oven for 45-50 minutes rotating pan half way through baking. Remove from oven and drain skins on paper towels. On a cutting board, chop skins into tiny pieces and reserve until needed.
5. Prepare Belgium waffles: Whip egg whites to stiff peaks. In a separate bowl, sift dry ingredients together. In a 3rd bowl, mix oil, milk and egg yolks and vanilla. Stir wet ingredients into dry ingredients, and then fold in whipped egg whites. Prepare waffles according to waffle makers manufactures instructions.
6. Prepare waffle croutons: Preheat oven to 400 degrees. Cut 1-2 waffles into 1/2 inch pieces. Place pieces on sheet pan and bake in oven for 10-15 minutes until crunchy on the outside. Cool and reserve until needed.
7. Churn ice cream base in ice cream machine according to manufacturer's instructions. At the end of churning, add in chopped chicken skin and waffle croutons. Place ice cream in airtight container and freeze.
*Yields approximately 2.5 pints
If you'd rather not make it, you can be one of two lucky winners of this fabulous, scratch made craft ice cream in our weekly pint giveaway. Enter your name in the comments section here, or on our facebook page under the posted contest. Two winners will be drawn randomly on Friday 3/27/15 at 4pm. Winners must be able to pick up locally in Minneapolis. Prizes must be claimed by email within one week or we will redistribute. 🙂 Good luck!