In the fall, as the evening temperatures start getting colder and colder, I find myself craving a glass of red wine verses a frosty cold brew. So this week, I decided to make a red wine ice cream, and to add to the fall flare, poached pears. So let's get started with this week's flavor – Red Wine with Poached Pears.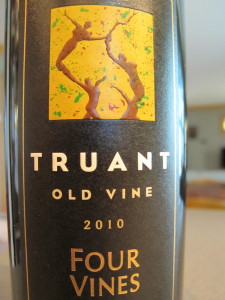 Oddly, we've never made a straight up red wine ice cream before, so this is what I set out to do. I chose this really easy drinking Zinfandel that is loaded with dark berry flavors. The wine is boiled hard and reduced to almost nothing before we add it into our organic cane sugar base. The base is cooled and ready for the churn.
For the pears, I diced to poach them. I knew this route would give me full control over their flavor. Instead of the classic wine poached pears with spices, I went back to a very similar flavor pairing I did a few years back – Pear Mascarpone with Prosciutto and Red Wine Caramel. The combo of the prosciutto and pears with the red wine was fantastic. In my head: pork products in ice cream commence. To start with I picked up some of these Oregon grown Concorde Pears from the Seward Coop. They are firm like a d'anjou pear, but quite a bit sweeter. They get peeled and quartered before being poached in a bath of simple syrup, peppercorns, and here it comes…wait for it…bacon! After the pears are poached, they are dehydrated in the oven for a while so they're not icy when frozen. Cause no one wants icy fruit in their ice cream, right? Right! The pears are diced and tossed into the red wine ice cream at the end of the churn.
A delectable red wine ice cream with bacon poached pears. It's ice cream for those cool fall evenings.
You can be one of two lucky winners of this fabulous, scratch made craft ice cream in our weekly pint giveaway. Enter your name in the comments section here, or on our facebook page under the posted contest. Two winners will be drawn randomly on Friday 10/24/14 at 4pm. Winners must be able to pick up locally. Prizes must be claimed by email within one week or we will redistribute. 🙂 Good luck!