Grilling/barbecuing is a favorite of ours, in particular, the technique of smoking, which got me thinking about trying to infuse wood flavor into our ice cream. You know, think of that cedar smell when you're in a sauna. I wanted to get that into the ice cream, but not cedar. In particular, oak.  I just wasn't sure about using any ordinary oak gathered from the woods to put in our ice cream, so I did a little research, and of course, they sell prepared oak chips and shavings at the home brew store for brewing beer and wine. !!! Now that I have my oak, the obvious pairing was wine, but hard ciders are big right now, and tis the season for cider, so I wondered if there were any hard ciders that got aged in an oak barrels. But more importantly, can I find a locally produced cider? And I did, which brings me to this week's flavor – Toasted Oak with Sweetland Orchard Hard Cider Syrup
I stopped into Northern Brewer and their helpful staff walked me through their wood chip/shaving varieties, and I decided to go with a medium toasted oak chip. I didn't want to overpower the ice cream, but also didn't want it to be virtually unrecognizable. My thought was to steep the oak chips in our ice cream base (as we do with pretty much everything) in hopes that I would achieve that toasted oak taste, as it smells, in the actual cream. It worked! And by worked, I mean worked. Basically it worked. Really well. Better than expected. After the steep, the chips get strained out, the base is cooled and is ready for the churn.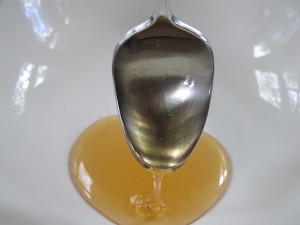 Next, cider syrup! First and foremost, I wanted to find a locally produced hard cider, but I was hoping to find one that was fermented in oak barrels. I found this Sweetland Orchards Northern Spy Hard Cider, from Webster, MN, but couldn't find any info on their fermentation process. The cider itself though was really interesting and delicious. It is a dry cider, and as the bottle suggests, a champagne cider. It was exactly that. It had both cider and champagne qualities, which in my mind, was perfect for this flavor pairing. For the syrup, I reduced the cider down by a half to two thirds to condense flavors, then added sugar to make a syrup. The syrup is swirled into the ice cream before packaging.
The end result is a toasted oak ice cream that is almost caramelly layered with a hard cider syrup AKA apple wine. It's a unique and delicious combo, and one that you'll only find here.
You can be one of two lucky winners of this fabulous, scratch made craft ice cream in our weekly pint giveaway. Enter your name in the comments section here, or on our facebook page under the posted contest. Two winners will be drawn randomly on Friday 10/10/14 at 4pm. Winners must be able to pick up locally. Prizes must be claimed by email within one week or we will redistribute. 🙂 Good luck!