We talk a lot, maybe too much, about where our inspiration comes from – but its a huge part of what we do and is something we cherish and welcome.  I often find the path and the journey is equally, and sometimes more rewarding than the end result and not just in making ice cream.
In the case of this flavor, the inspiration came from a book (and a friend).  "And In Their Passing, A Darkness: The Salt Machine", written by my pal Jeff Smieding, is a fantastic piece of fiction and one I highly recommend.  Jeff had asked me to create a flavor for his upcoming book launch party and wondered if we might somehow involved salt since it is an overarching theme in his book.   We had just procured some barley malt with the intention of developing a few malt themed flavors – and as fate would have it Jeff happens to brew his own beer once in awhile so we arrived at the genesis.  Black Sea Salt Malt.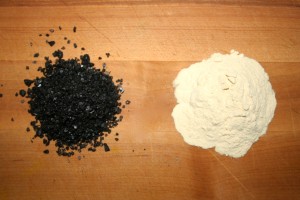 The foundation of the ice cream is our regular organic cane sugar base flavored with vanilla bean and a heap of this barley malt powder to give it that classic "malt" flavor.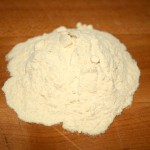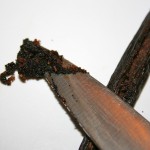 Then comes the salt.  For a long time, I've wanted to create a flavor with course salt as an add-in – to give crunchy bursts of salty goodness.  I chose this course black sea salt because it dissolves more slowly than its counterparts and would provide the textural element that would last a bit longer.  It also looks fantastic and fits the darkness element of Jeff's book quite nicely.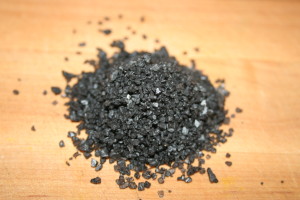 The ice cream base is churned and the salt added in at the very last minute.  As it churns for just a few seconds more – the smaller salt crystals dissolve into little rivers of black and grey swirled throughout the ice cream.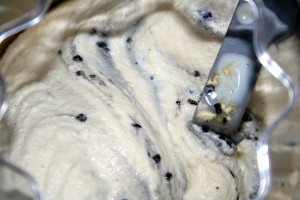 I am always motivated and excited by ice cream flavors that play tricks on the mind and the palate, both in color as well as with texture and flavor.  This particular flavor looks almost like chocolate chip, but obviously tastes nothing like it.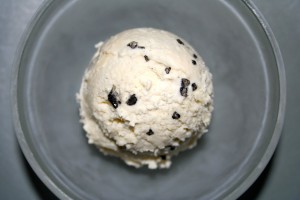 The ice cream really is striking if I do say so myself.  A malted vanilla base speckled with crystals of black sea salt that provide occasional explosions of salt among the sweetness.
Check out Jeff's book here and if you feel so inclined, go enjoy a local brew and see Jeff read from his book in person at the book launch Wednesday March 19 at Harriet Brewing.
Like to try some? You can be one of two lucky winners of this fabulous, scratch made craft ice cream in our weekly pint giveaway. Enter your name in the comments section here, or on our facebook page under the posted contest. Winners will be drawn randomly on Friday 3/7/14 at 4pm. Winners must be able to pick up locally. Prizes must be claimed by email within one week or we will redistribute. 🙂 Good luck!