We are going to keep the beach vibes going this week to shed more warmth on these harsh winter months. Recently we rolled out our Coconut & Mangosteen Caramel, Jasmine Citrus Saffron and Georgia Walnut. This week, we're back at it with another tropical inspired flavor jumble with our Lime w/ Macadamia and Ginger Caramel. Let's do this!
Lime lime! Limes! Lime! So these are limes. First, we zest. Then, roll them out and juice em. The juice is poured into a sauce pan with equal parts sugar, then reduced into a syrup. The syrup and lime zest are both added to our ice cream base to ensure full lime limeness. It's ready for the churn.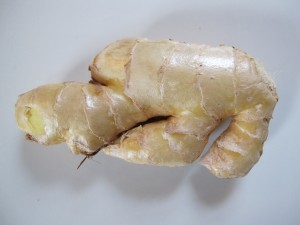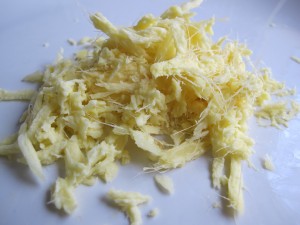 Ginger! I had been watching Top Chef a few weeks back and for those who are familiar, there are contests every episode called "quickfire" challenges. This one in particular made use of ginger. Someone on the show made a ginger caramel, and I instantaneously knew that this was going in one of our next flavors. This week's flavor was designed around the idea of this ginger caramel. The process was not divulged on the show, but we've made caramel hundreds of times, and intuition had me peeling and grating the ginger first.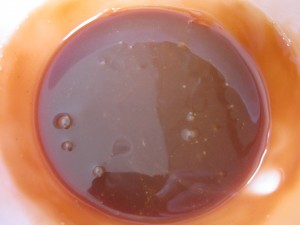 Next, the ginger got heated with cream, steeped to fully infuse, and then strained out of the cream. Next, we made a traditional caramel by boiling plain granulated sugar until caramelized. The ginger-infused cream is then added into the boiling caramelized sugar, salted, and bang-go! Ginger caramel!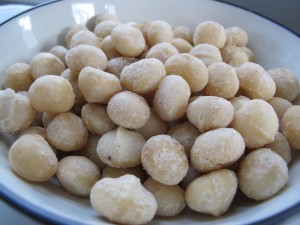 Our last addition – macadamia nuts. They add texture and crunch. Their nutty buttery flavor hits at the end of each bite. We keep them plain and simple, and add into the ice cream at the end of the churn.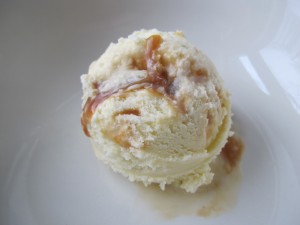 The results are in…rich and creamy lime ice cream layered with salty ginger caramel finished with the crunch and nuttiness of buttery macadamia nuts. Summer's favorite flavor? Nah, winter's favorite flavor.
You can win one of the only two pints in the world, filled with this fabulous, scratch made craft ice cream in our weekly pint giveaway. Enter your name in the comments section here, or on our facebook page under the posted contest.  2 lucky winners will be drawn randomly on Friday 2/1 at 4pm.  Winners must be able to pick up locally and give us feedback. Pints must be claimed by email within one week or we will redistribute. 🙂 Good luck!