Sandbakkels are one of those Christmas cookie traditions that really embody my memory of the holidays growing up. Tables lined every wall in my grandmothers three season porch where boxes were filled with sugar cookies, spritz, rosettes, sandbakkels, krumkake and lefse among others. They are fundamentally made with the same ingredients, but the sandbakkels, after sitting in the cold air, had a substantial buttery crunch like none of the others. It is this and the reminiscence of our grandmothers cookies that bring us to another FrozBroz holiday flavor. Making sandbakkels requires some grandmotherly love.
That's why we are going to get things started with Lard! These cookies wouldn't be what they are without it. Cows make butter and pigs make lard. Fortunately for all of us, this recipe has BOTH. The lard gets creamed with butter, sugar, eggs, flour and vanilla.
There are a few spices that can really distinguish one holiday cookie from another. Nutmeg, cinnamon and allspice come to mind. Here we use Cardamom. These pods are cracked open and the seeds are ground in a spice grinder, then added to the dough.
Ok, for those of you who are unfamiliar with Sandbakkels, these are the molds that they are baked in. I mean, come on, these cookies are so cool that they require a special tin for each individual cookie.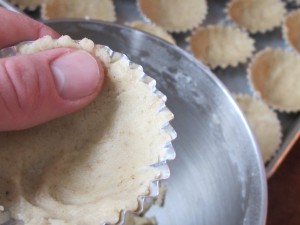 The dough gets pressed into tins with one of the broz big chub thumbs, then baked off until golden brown.
Sandbakkels! These get tossed into a vanilla base with a little brown butter at the end of the churn. Now this flavor would be great on it's own, but we just had to jam a little more holiday cheer into this one.
Our friend Heidi Skoog over at Serious Jam is cooking up small batches of jams and jellies like Strawberry Balsamic with Black Pepper, Blueberry Bourbon Sage and Raspberry Ruhbarb Pimms. For this weeks flavor, she made us a Grape Muscado Pink Peppercorn Jam that we drizzled in layers while packaging. This jam offers a gentle twist when paired with grandmothers Sandbakkels.
Not to mention, Serious Jam looks seriously awesome in our ice cream!
How about a free pint?  Per the weekly drill, we'll be giving away two pints of this flavor. Just leave a comment on our facebook page to be entered into the drawing. If you don't have a facebook account, leave a comment right here on the blog. We'll draw two winners on Friday afternoon (12/23/2011) at 4pm and will announce them on our facebook page. Our only conditions are you must be able to pick it up here in Minneapolis, and be willing to give us a little feedback that can be shared with everyone else. Good luck!