As we've traveled through our flavor exploration to this point, we've leaned on our own life experiences as much as we have our fascination of challenging ourselves with flavor combinations and texture in the context of ice cream.
There's no question its fun to create unorthodox flavors that surprise and reset expectation, but it's just as fun (and often more challenging) to recreate an old standby in this medium and try to make it accurately represent the original source of inspiration.
Now, we could argue for days who makes the best pie.  And I've come to the conclusion that good pie is defined by comfort and nostalgia almost equally as it is by pure culinary talent and execution.  It's nearly impossible to be unbiased, save not ever having had pie in the first place.  When it comes to pie, nothing beats what we know (as long as its good).
Hence, when it comes to the pecan variety, I always return to my mother's recipe. It's typically a once a year experience and always makes its appearance somewhere between Thanksgiving or Christmas (though it's been known to replace my birthday cake as a child – okay maybe as an adult too).  In my book, this pie spans space and time.
And as cliche as it may be to say we used "our mother's recipe" like some bad italian restaurant, the truth is, enduring family recipes like this are the ones created with love that only a mother can infuse.  Not to mention, both of our mothers have some serious baking skills.
The idea for this flavor was to pull it apart, and recreate its decadence in a pint form.
To start, the pie crust…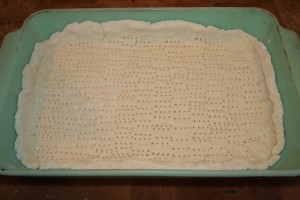 It may not be pretty, and it doesn't need to be.
For the purposes of this recipe, we make a traditional pie crust, bake it off by its lonely self, and then break it into pieces to be crumbled into the base of the ice cream.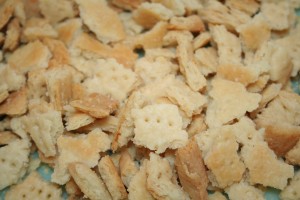 crusty.
Then, the filling.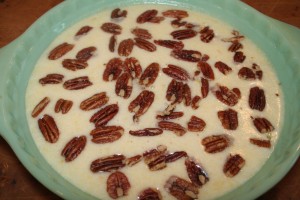 The trick we found with this interpretation, is that the filling cannot bake like it would as typical pecan pie, or it forms a crust on the top that becomes far too chewy when frozen.  As a solution, the filling has to be agitated while its baking, and baked for less time to keep it at a consistency more conducive to sub- zero temps.
The filling is not unlike a caramel – but with extra benefits.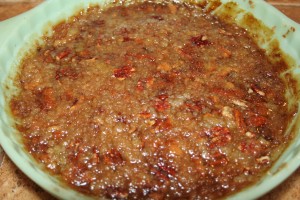 And when I say benefits, I mean dark, roasty pecans.  Again, its not the prettiest in this state, but the flavor runs deep and unbridled.
To complete the experience, more roasted, salted pecans.
Nuts.
For the finish, we make a pure cream and confectioners sugar base – to best represent the whipped cream that a slice of pecan pie is so incomplete without.
The roasted pecans and crumbled pie crust are blended in to the base, and the pecan filling is incorporated in layers to provide complete bites combined with every individual flavor you experience with a slice of pecan pie.
Sure, you can't see that blissful filling at the top of the pint, but the pecan whispers the secret of what lies beneath.
How about a free pint?  Per the weekly drill, we'll be giving away two pints of this flavor. Just leave a comment on our facebook page to be entered into the drawing. If you don't have a facebook account, leave a comment right here on the blog. We'll draw two winners on Friday afternoon (12/16/2011) at 4pm and will announce them on our facebook page. Our only conditions are you must be able to pick it up here in Minneapolis, and be willing to give us a little feedback that can be shared with everyone else. Good luck!