May in Minnesota can often not bring in Spring quick enough, but there are always the beginnings of great things to come, such as rhubarb. I have a rhubarb plant that was given to me from my father-in-law, which was split from a plant on his fathers farm.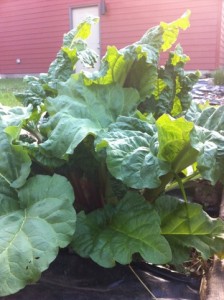 Heirloom rhubarb? One thing I do know is that it makes a great rhubarb crisp. When the rhubarb is young and tender, this ice cream is a Spring craving.

After this crisp comes out of the oven, we allow it to cool. We cut a few pieces and freeze before chopping and adding to our frozen ice cream base.
The tartness of the rhubarb and the crunch of the tart made for a nice little seasonal combination.
Remember, we're giving away a pint of our weekly flavor.  Be the first to ask us for it here, or on our Facebook page and its all yours. We'll also happily ship it to you, we just ask you pay for the shipping costs.