Our Facebook fan flavor contest from a few weeks back provided a ton of great flavor ideas and we'll probably add a few more before summer is over.  This week we're going to go back to the summer cocktail theme using a fan suggestion and visit another great summer drink featuring ginger ale, lime and rum – the Dark and Stormy.  For the ice cream version, we made a ginger brown sugar ice cream with candied lime and dark rum syrup.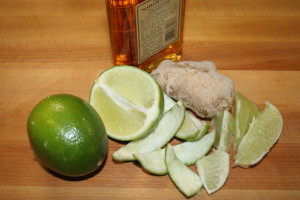 The most labor intensive part of making this flavor is making the candied lime – so we'll start there.  The lime rind is carefully separated and sliced – then boiled 3 times to remove the bitterness.  Once that is done, the lime "zest" is simmered in a simple sugar syrup until tender, tossed with sugar and laid out on a sheetpan to dry.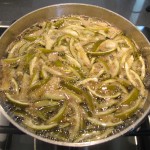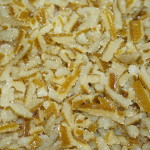 Then comes the dark rum syrup.  It starts with brown sugar and water, which is boiled into a syrup.  The dark rum is added at the end once cool to prevent all of the alcohol from burning off.  Rum is a sweet liqour that disappears in more sugar, so we want a little of the alcohol to stay in the syrup and round out the flavor.
Last but not least, the ice cream base.  To serve as the ginger ale portion of the cocktail, we use brown sugar and fresh grated ginger.  It makes for a nice slightly dark and gingery base to hold up the candied lime and rum syrup.
The candied limes are added in at the end of the churn and the rum syrup is swirled in as the ice cream is packed into it's container.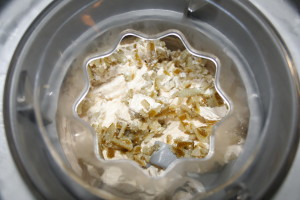 The scoop is a light and airy brown sugar ginger ice cream studded with candied limes all embraced by a dark rum syrup swirl.
Dark and Stormy Ice Cream Recipe
(makes approx 1-1/2 quarts)
Ingredients:
For Ice Cream:
2C Heavy Cream
1C Milk (use any fat percentage you prefer – higher lends to a creamier base)
2 Eggs
3/4C Brown Sugar
1 Tablespoon of finely grated ginger
1/2 tsp salt
For Syrup:
1C Brown Sugar
1/2C Water
2 Tablespoons of Dark Rum
For Candied Lime:
3 Limes
1C Sugar + Extra for dusting
1C Water
Instructions:
1. Prepare the candied Lime (make 1 day ahead of time): Remove the peels from the limes.  Using a sharp knife, carefully remove any thick white pith from lime peel. Cut peel into thin 2-inch-long strips. Place peel in pot and cover with water. Bring to boil and strain, repeat boiling and straining 3 times to remove bitterness from peel. Once boiling has been completed, bring 1 cup of water and 1 cup of sugar to boil. When sugar is dissolved, add strained lime peel and reduce to simmer; cook for approximately 30-45 minutes or until lime peel is tender. Once tender, strain lime peel and toss with sugar to coat, then spread out on sheet pan and let dry completely (will go faster in refrigerator – usually takes about 3-4 hours). Once lime peel is dry chop into small 1/4″ sized pieces and chill in refrigerator until you are ready to churn ice cream.
2. Prepare the syrup (make ahead of time and chill): Combine the brown sugar and water in a heavy bottom pot and place on burner over medium/high heat.  Bring to boil and cook until temperature reaches 220 degrees farenheit (you'll need a candy or high heat digital read thermometer). Watch closely because it can boil over lightning fast. Remove from heat. Let cool to room temperature and then add the rum and stir until incorporated. Chill further in refrigerator until you're ready to make ice cream. It helps to test some of the syrup in the freezer to make sure it doesn't get too hard or thick.  If it does – simply add a bit of water or rum and heat until you can incorporate it all (or do it while it is still warm).
3.  Prepare the ice cream: Crack eggs into a mixing bowl and whisk fully. Add grated ginger, brown sugar and salt and whisk again until all are fully incorporated.  Place ice cream mix in heavy pot and cook over medium heat, stirring continuously. Heat ice cream mixture until temperature reaches 165 degrees. Remove from heat.  Cool the ice cream base to room temperature (an ice bath will do this in about 15-20 minutes).   Once cool, place ice cream mix in a container, cover, and chill in refrigerator overnight.
Churn ice cream base in ice cream machine according to manufacturer's instructions. Add in 1/2C candied lime in the last 5 minutes of the churning process. The rum syrup is swirled in to the ice cream as you pack it into the container. Freeze in a tightly covered container for at least 4 hours, preferably overnight if you can wait.  Then, enjoy!
*Yields approximately 2.5 pints of ice cream.
If you'd rather not make it, you can be one of two lucky winners of this fabulous, scratch made craft ice cream in our weekly pint giveaway. Enter your name in the comments section here, or on our facebook page under the posted contest. Two winners will be drawn randomly on Friday 7/10/15 at 4pm. Winners must be able to pick up locally in Minneapolis. Prizes must be claimed by email within one week or we will redistribute. 🙂 Good luck!