To continue the holiday theme – how about a flavor inspired by a song?  "The Christmas Song", more commonly known as "Chestunuts Roasting on an Open Fire" is a Christmas classic that was originally written in 1944 by Mel Torme; its most famous rendition is probably its first – performed by Nat King Cole.  I've probably heard the song 500 times over the course of my life, and it was only a few years ago that I started to wonder what roast chestnuts would actually be like.  In addition, I also wondered, who actually does this as a family tradition?  Well, why not try them for the first time and make ice cream out of them too?
Chestnuts aren't exactly easy to find, but pop up around Thanksgiving because of their use in stuffing.  I noticed them in the produce section a few weeks back and figured to give it a shot.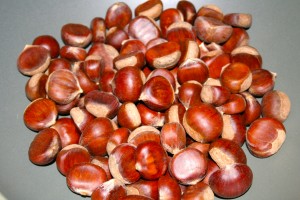 Before being fired, the chestnuts need have a slit put in each nut, to keep them from popping as steam builds up inside while they are roasting.  Then they get simmered in some salted water for a bit to add a bit of extra steam to the process and give them a nice salty coating.
Next, the chestnuts go onto a hot fire for about 15 minutes or so, being tossed often to keep them from burning on any sides.  While they roasted we mixed up a batch of our brown butter base for these chestnuts to take a bath in.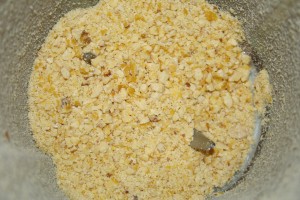 It's times like these that I kick myself for not taking enough pictures.  Like one of the nutmeat before being ground.
That's right, the nutmeat.  Once these weird little nuts are peeled, they look like little beige brains.  So we took them and ground them up to steep in the cream base while hot.
After steeping, we strained out the chestnut leftovers and gave it a spin in the maker.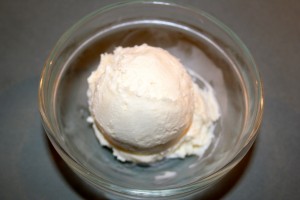 The end result is a smooth, clean ice cream with hints of brown butter and a subtle but addictive sweet roast chestnut flavor.
You can win one of the only two pints in the world, filled with this fabulous, scratch made craft ice cream in our weekly pint giveaway. Enter your name in the comments section here, or on our facebook page under the posted contest.  2 lucky winners will be drawn randomly on Friday 11/30 at 4pm.  Winners must be able to pick up locally and give us feedback. Pints must be claimed by email within one week or we will redistribute. 🙂 Good luck!