I happened across these gorgeous dark Wisconsin cherries in the past week and snatched them up to pair with some of the fresh basil I have growing in the backyard. The very evening I bought the cherries I came home to my 2 year old son snacking on a handful of yogurt pretzels and knew right then and there that yogurt and pretzels would also have to be part of this combination. Serendipity and ice cream are a scheming pair.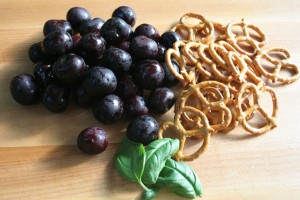 The Cherries are the star of this show as they should be, and we begin with making them into a light jam.  We've got this fantastic new method that really preserves the integrity of the fruit while keeping it from getting icy.  It's all about displacing the water content with sugar.  Ah, the sweet wonder drug that we are slaves to.  Sugar.  With a nod to Oscar Wilde, we preach moderation in everything, including moderation.
Once the jam is made, the rest of this process is smooth sailing.  The ice cream is a simple yogurt/cream base made with our favorite full fat yogurt to give it a nice tang.
This pretty garden fresh basil is minced and added in fresh at the end of the churn.
The pretzels are broken into smaller pieces and also added in at the end of the churn.
The end result is a rich yogurt basil ice cream swirled with fresh cherry jam and studded with pretzel chunks.
Cherry Basil Yogurt Pretzel Ice Cream Recipe
Cherry jam ingredients:
1 pint fresh cherries (about 1/2 pound)
1 Cup  sugar
2 1/2 teaspoons lemon juice
Ice Cream ingredients:
1 Cup of plain yogurt
2 Cups of Heavy Cream
3/4 Cup of sugar
1 Cup of pre-made Cherry Jam
1 Tablespoon minced fresh basil
1/2 Cup pretzels (broken up)
1 teaspoon of salt
Instructions for the Jam: Place a plate in the freezer (this will come in handy in a bit). In a medium saucepan combine the cherries and lemon juice. Let stand for 15 minutes, stirring occasionally. Stir in sugar. Bring mixture to a boil over high heat, stirring frequently. Cook and stir the mix until the bubbles subside and the jam appears slightly thickened, somewhere around 15 minutes. To test for doneness, spoon a small amount onto the chilled plate. If jam is gooey and wrinkles when you push your finger into it, it is done.  This means it will not be icy in the cream (which you do not want).  If not, cook and stir a little longer before testing again.   Cover and chill completely until you are ready to make the ice cream.
Instructions for ice cream: Crack eggs into a mixing bowl and whisk fully.  Add sugar whisk until fully combined.  Add heavy cream, yogurt, and salt.  Whisk again until all ingredients are fully blended.
Over medium heat, whisk or stir base continuously. Keep stirring continuously until temperature reaches 165-170 degrees.  Remove from heat. Cool ice cream base to room temperature (an ice bath will do this in about 15-20 minutes).  Put base in a clean container, cover, and chill in refrigerator overnight.
5. Churn ice cream base in ice cream machine according to manufacturer's instructions. Add basil and pretzels in last 5 minutes of churning.    Place ice cream is in freezer proof storage container. swirling in the cherry jam in layers as you do so.  Place container in freezer and freeze ice cream for at least 3 hours, preferably overnight if you can wait.
*Yields approximately 2.5 pints
If you'd rather not make it, you can be one of two lucky winners of this fabulous, scratch made craft ice cream in our weekly pint giveaway. Enter your name in the comments section here, or on our facebook page under the posted contest. Two winners will be drawn randomly on Friday 8/7/15 at 4pm. Winners must be able to pick up locally in Minneapolis. Prizes must be claimed by email within one week or we will redistribute. 🙂 Good luck!