We're back on rhubarb this week – 'tis the season in Minnesota, and we've got to get our fill. This week, we're riffing off of an old favorite of ours; Rosemary Lemon Bar. Instead of the rosemary infused ice cream, we're doing a lemon thyme infusion, and making chewy shortbread rhubarb bars instead of lemon bars. It's a win win guys! Let's get started with this week's flavor – Rhubarb Bar Lemon Thyme
As I mentioned, this is a riff off of our lemon bar ice cream, and the lemon bars…they're my mother's sacred recipe, they are oh soooooo good. The idea is to make a bar that stacks up to the buttery chewiness of the lemon bar, but with rhubarb instead. Also, the rhubarb compote we are using for these bars is a riff off of Serious Jams rhubarb. Her jam is incredible, and honestly, people should be fighting for jars from any one of her small batches. She is a master preservationist who takes the time to hand craft jars of joy.
For the bars, we make a shortbread crust with flour, sugar and butter. The crust is pressed into a pan and baked. The rhubarb compote with its syrup is mixed with eggs and flour, and then poured over the hot crust and baked longer. I think we accomplished our goal here. We did in fact. Buttery, chewy, and slightly tart, rhubarb bars. They get chopped up and added into the ice cream at the end of the churn.
For the ice cream base, we're going to infuse it using finely grated lemon zest, and fresh thyme. We went with our standard cane sugar base for this one. The lemon zest and thyme are cooked with base as it pasteurizes, and after a brief steep, the lemon zest and thyme are strained out. The base is cooled and is ready for the churn.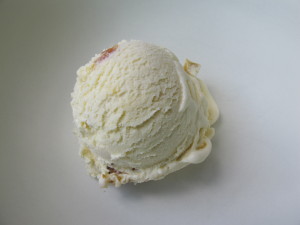 The end result is everything we could have hoped for. A rich lemon thyme infused ice cream with chunkers of tart chewy rhubarb bars. It's hard to get your fill of this one.
Rhubarb Bar Lemon Thyme
Shortbread Crust:
1 cup Butter
2 cups Flour, AP
1/2 cup Cane sugar
Filling:
4 Eggs
4 Tablespoons Flour
1 Tablespoon Lemon juice
1/2 tsp salt
1/2 tsp baking powder
2 1/3 Rhubarb compote with syrup(Recipe Here)
Ice Cream Base:
2 cups Heavy Cream
1 cup Milk
3/4 cup Cane Sugar
2 Eggs
10 Thyme sprigs
1 teaspoons sea salt
Zest, fine, 1 lemon
Instructions:
1. Shortbread Crust: Preheat oven to 350 degrees F. In a food processor, pulse butter, flour and sugar. Press into 13″ x 9″ cake pan. Bake for 15 minutes.
2. Make Filling: In a bowl, whisk eggs, flour, lemon juice, salt and baking powder. Stir in rhubarb compote with syrup.
3. Finish Rhubarb Bars: When shortbread crust comes out of the oven, pour filling over the top and bake for 25-30 more minutes. Remove from oven and allow to cool. Chop 1 cup of rhubarb bars and freeze. Reserve for ice cream. Chow down on remaining rhubarb bars.
4. Make ice cream base: Crack eggs into a mixing bowl and whisk fully.  Add cane sugar and whisk.  Add heavy cream, milk, salt, and lemon zest.  Whisk until ingredients are combined. Add thyme sprigs.
3. Cook/pasteurize ice cream base: Over medium heat, whisk or stir base continuously. Keep stirring continuously until temperature reaches 165-170 degrees.  Remove from heat.  Using a fine mesh sieve, strain base into a clean bowl.  Cool ice cream base to room temperature (an ice bath will do this in about 15-20 minutes).  Put base in a clean container, cover, and chill in refrigerator overnight.
4. Churn ice cream base in ice cream machine according to manufacturer's instructions. Add 1 cup of chopped rhubarb bars to ice cream at the end of the churn.  Store ice cream in air tight container in freezer until chow time.
*Yields approximately 2.5 pints
If you'd rather not make it, you can be one of two lucky winners of this fabulous, scratch made craft ice cream in our weekly pint giveaway. Enter your name in the comments section here, or on our facebook page under the posted contest. Two winners will be drawn randomly on Friday 6/19/15 at 4pm. Winners must be able to pick up locally in Minneapolis. Prizes must be claimed by email within one week or we will redistribute. 🙂 Good luck!