Who doesn't like some good brittle?   This flavor came solely from my desire to make brittle and to also make a pecan flavor of ice cream.  So why not accomplish my hopes and dreams by making pecan brittle and throwing it in some scratch made ice cream?
First came the brittle.  My experience making brittle is limited, but it's not nearly as complicated as one might think.  All you need is a candy thermometer, sugar, butter, baking soda, whatever nut suits your fancy and some patience and time.  For a great recipe and the one I used, check out this post at My Baking Addiction.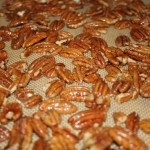 First, the pecans are roasted and salted well.  We always roast our own pecans because it's easy, and they are always better than what you can buy at the store.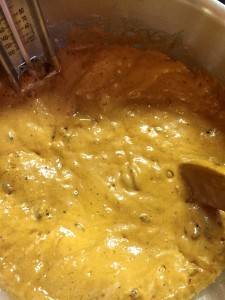 Above is a shot of the brittle mix at full boil right before being poured out onto a sheet pan.  What I neglected to take a picture of is the brittle being poured out onto the pan, partly because I was pretty occupied with the process and partly because you don't have much time to spread it out before it cools and hardens.  The end is by far the trickiest part of the process, mostly to avoid coating yourself with boiling sugar.
Here, my ice cream fellows, is the finished Pecan brittle with a generous helping of sea salt, just waiting to be thrown into the ice cream bath.  The brittle was broken into even smaller pieces than this and adding in to the sweet cream mix right at the end of the churn.
And here is the scoop – our simple sweet cream base chock full of luscious crunchy chunks of pecan brittle.
You can be one of two lucky winners of this fabulous, scratch made craft ice cream in our weekly pint giveaway. Enter your name in the comments section here, or on our facebook page under the posted contest. Two winners will be drawn randomly on Friday 11/14/14 at 4pm. Winners must be able to pick up locally. Prizes must be claimed by email within one week or we will redistribute. 🙂 Good luck!