Let's face it folks, we're clinging to summer with every fingernail we've got, but it's dreamy warmth and bright sun is coming to an end.  The reality ahead is the second best transition season midwest has to offer – FALL! (sorry Fall nuts, I'm a Spring guy).   Back to football, back to school, back to cool nights and bonfires and gourds!  Back to the long sleeves and jeans us midwest folk are truly comfortable wearing. (amiright?)  Oh, and lest we forget APPLES! Every year we obsess a little about apples and we don't plan on changing.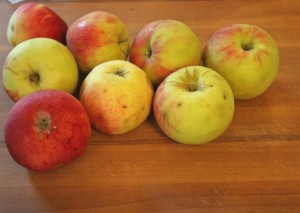 For this week's flavor we chose to create an apple jam.  In the past we've typically roasted the apples, but I wanted to try something different.  These Hoch Orchard Zestar apples were diced up small, and cooked down with sugar and cinnamon.  Making a jam allows us to get enough sugar in to displace the water content of the fruit and keeps the fruit from getting icy.  The trick is always to get the water out of the fruit but still retain the flavor.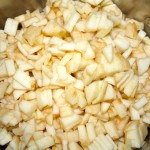 We've been experimenting with using different types of malt in ice cream and for this I wanted to try out this barley malt extract we picked up.  This barley malt extract is a lot like molasses – rich, slow, and sweet.  It provides a nice malt background flavor to the ice cream and pairs perfectly with the apples.
As a third dimension, we added some Quark cheese from Milton Creamery.  Quark is a fresh/unripened cow's milk cheese.  Similar to cream cheese but a bit tangier.  Just can't resist the temptation to pair apples with cheese – they work so well together.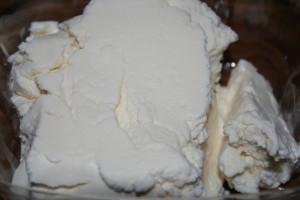 The scoop – a malty, tangy quark ice cream filled with ribbons of apple jam.  It's fall dangit!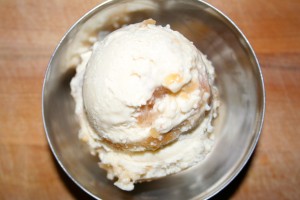 Look good? You can be one of two lucky winners of this fabulous, scratch made craft ice cream in our weekly pint giveaway. Enter your name in the comments section here, or on our facebook page under the posted contest. Two winners will be drawn randomly on Friday 9/19/14 at 4pm. Winners must be able to pick up locally. Prizes must be claimed by email within one week or we will redistribute. 🙂 Good luck!