Onward to another variation of one of the season's greatest offerings – sweet corn! This week we got a little help from our friends Rich and Angela, who a few weeks back, made my new favorite sweet corn combination, jalapeno honey butter. After tasting it and watching them make it, I knew we had work this combo into one of this season's sweet corn flavors. So here it is, this week's flavor – Sweet Corn with Jalapeno Honey
As we did last week, we picked up our corn at the Midtown Farmers Market from Peter's Pumpkins. The ultra-sweet bi-colored variety. Whatever they're doing, they're doing it right. I can eat this corn raw right off the cob. It's that good! Oh, and I did. For the ice cream, the corn is pureed with a little cream, steeped in the ice cream base, and strained after the cooking process. It's now ready to churn, but not before we make that jalapeno honey…
These are organic jalapenos from the Wisconsin Growers Cooperative near Durand, WI. They're perfect. We first roast them on charcoal grill with a little wood added for that subtly smoky wood fired flavor. The peppers are peeled, seeded and deveined before they're pureed in a food processor with wildflower honey from Garden Farme in Ramsey, MN. Initially I wasn't going to put any butter in this jalapeno honey because I thought it would probably get lost with all of the other flavors here, but in the end, I may have added a touch of brown butter to this jalapeno honey puree. Shhhhhhhh, don't speak. We layer the jalapeno honey into the ice cream at the end of the churn.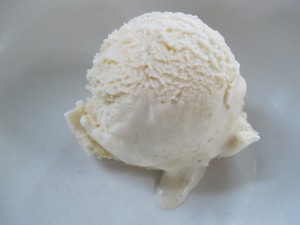 Sweet corn ice cream of any variety is luxurious on a number of levels, and this my friends, is no different. In fact, it's beyond luxurious. The sweet corn ice cream with the jalapeno honey provides an explosion of flavor and a true party in your mouth. And for those supportive CSI full share members, this flavor will be part of your August share.
On the bright side, if you're not a Full Share member, you can be one of two lucky winners of this fabulous, scratch made craft ice cream in our weekly pint giveaway. Enter your name in the comments section here, or on our facebook page under the posted contest. Two winners will be drawn randomly on Friday 8/15/14 at 4pm. Winners must be able to pick up locally. Prizes must be claimed by email within one week or we will redistribute. 🙂 Good luck!