Que Andy Williams…"Its the most wonderful time…."
Seriously though, with ice cream most times of the year are pretty wonderful.  But summer tops them all when we get our hands on local berries.  We're wrapping up an incredible and well utilized strawberry season and coming into the peak of blueberry season once again.  Every year we usually create a few flavors based on each of these berries and we have so many ideas backlogged that it's hard to decide what to do.  We've been into combining fruits this summer and thanks to a 1947 New York court decision, Rhubarb is also considered a fruit.   Either way, rhubarb and blueberry make a pretty incredible combination. Superlatives aside, lets get to the party.  Rhuberry Blubarb!
Starting with this fresh rhubarb we procured from the Seward Co-op, and these incredibly flavorful blueberries fresh from Northfield, MN, we begin our journey.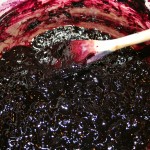 Both the rhubarb and the blueberries are cooked down with sugar to eliminate the water content in them and keep them from making the ice cream icy. The blueberry jam is added straight into the cream for a deep blueberry ice cream flavor.  The rhubarb is swirled in after the churn, leaving nice thick rivers of tart rhubarb jam that add a nice bright tartness to the bite.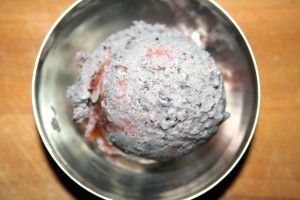 The scoop: a rich blueberry ice cream, swirled with tart rhubarb jam.  A perfect snapshot of mid-summer.