We're just going to come out and say it right away this week. We made seaweed ice cream. Most people are probably going to  think that this is a crazy and totally disgusting idea, but in all actuality, it is a pretty tasty ice cream. This is where the future of ice cream is going folks. Don't you want to know what a savory ice cream tastes like? We are just getting your feet wet now, so it's easier for you to dive in later to the savory flavors of our future. So let's get started with this week's flavor: Seaweed…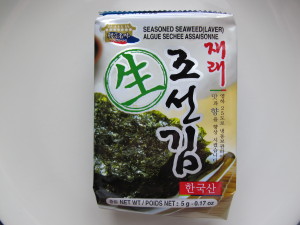 I don't know if you've ever watched the PBS show Mind of a Chef, so if you haven't and you are into food, you should try and catch an episode. In particular, I've really enjoyed the series featuring chef David Chang. The episode where he is in Japan is really where this idea of seaweed ice cream came to be. Chang was perusing through a Japanese market where he was explaining the different types of seaweed and their uses in Asian cooking. He talked about his favorite nori (seaweed) being a Korean variety that is traditionally raosted and seasoned with sesame oil. I think it was the chip-like crunch and sesame seasoning that hooked me, when I saw Chang take a bite. United Noodles Asian Market isn't far from my house, so I headed over and grabbed a few packages. United Noodles is another whole story, but go check them out if you live in the Twin Cities and love Asain food and groceries. It's unbelievable in there.
Each package contained a carton of about ten ultra-thin sheets of dried, roasted and seasoned seaweed. The seaweed was salty and the sesame seasoning reminded me of a night out eating sushi. Of course my next thought was, this could be good in ice cream…had to try it.
For the ice cream, we took the sheets of Korean seasoned seaweed and blended them up with our organic cane sugar base. The base is cooked and cooled, and the seaweed remains in the ice cream.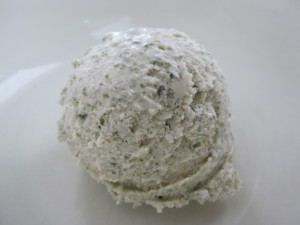 Just going to come out and say it…we made seaweed ice cream. It's probably unlike any ice cream you've ever eaten before. It's savory and tastes exactly like the some of its parts. It is a flavor that you may only eat a spoonful or two of at a time, but it will keep you coming back for more wondering what it tastes like again, because the experience is so unfamiliar. Come on, get your feet wet.
Like to try some? You can be one of two lucky winners of this fabulous, scratch made craft ice cream in our weekly pint giveaway. Enter your name in the comments section here, or on our facebook page under the posted contest. Winners will be drawn randomly on Friday 3/28/14 at 4pm. Winners must be able to pick up locally. Prizes must be claimed by email within one week or we will redistribute. 🙂 Good luck!