When our favorite grocery store, Seward Co-op started carrying fresh turmeric root this winter, I jumped at the opportunity to create a flavor with it.  Turmeric root has a more unique and pronounced flavor than the powder variety.  Its flavor is somewhat ginger like, but still very much it's own profile.  It also has the ability to color almost anything it comes in contact with, neon yellow.  Maybe even more poignant – Turmeric is believed to provide a plethora of health benefits that range from cancer and alzheimer's prevention to detoxifying your liver, boosting your immune system and relieving arthritis.  Considering all that, I suppose you could say this is our first homeopathic flavor?  Won't go that far.  Either way, it made for an interesting journey and result.
To start, the turmeric root is peeled, minced and blended into our classic cane sugar base.  It is steeped in the base to bring out the flavor and color.
You can see from left to right how the color of the ice cream transforms as the steeping process draws the color out of the root.  Once the steeping process is complete, the base is strained to remove all of the turmeric root pieces and to provide a nice smooth consistency.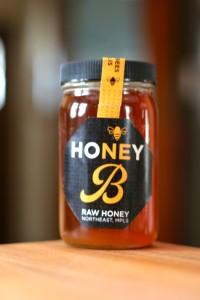 To add some dimension to the flavor, we used some of this local honey produced by our friend Britt.  It has a fruity element to it which plays very nicely with the turmeric.
The base is churned and swirled with the honey at the end.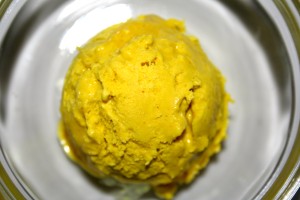 Results?  A neon yellow colored Turmeric ice cream with fruity local Minneapolis honey that rounds out the sweetness and ends as one of the more unique flavor profiles of any ice cream we've created.  It truly plays tricks on your brain as you try to divide the line between what you think it should taste like and what it actually does taste like.  Its one of those flavors I keep going back for more because of that very fact. It's just fun.
Like to try some? You can be one of two lucky winners of this fabulous, scratch made craft ice cream in our weekly pint giveaway. Enter your name in the comments section here, or on our facebook page under the posted contest. Two winners will be drawn randomly on Friday 2/21/14 at 4pm. Winners must be able to pick up locally. Prizes must be claimed by email within one week or we will redistribute. 🙂 Good luck!
And don't forget about our Spring CSI subscription – if you're offered in reserving pints on a monthly basis between March and May 2014, go here for more info.
Finally – we have another pint sale coming up in two weeks on March 1st – see here for details on menu, and timing, etc.