Why not start the holiday season a week early? We're gonna. Right here. Right now. With Thanksgiving coming next week, we thought we would release this fresh new flavor, so that the two lucky pint winners could maybe, just maybe, pick up their pints for the big feast itself. Pints of what, you're probably asking? Stuffing. Thanksgiving stuffing…but in ice cream. Whaaaaaaa? That's right, let us explain this Frozbroz flavor of the week: Thanksgiving stuffing…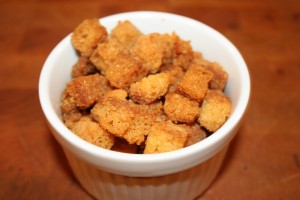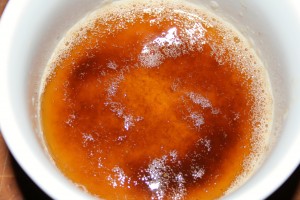 This is a flavor we kicked around about a month ago in preparation for the Thanksgiving holiday. We went through a handful of different flavor ideas, trying to decide what to do, until Ben said it; "stuffing". Yes! For those of you who follow this blog, you know how often we bake some sort of  cake, bread, or pastry into croutons and toss them into our ice cream. So the idea of stuffing in ice cream, acually makes a lot of sense. We started by making both cornbread and caraway rye bread croutons. Our process is the same as always; cubed bread tossed with butter, and into the oven for the crunchy finish. We added a bit of brown butter to our ice cream base to bring out the nuttiness of the cornbread and the caraway rye. And to add a slightly chewy texture, we agreed that Medjool dates would not only contrast in texture, but add earthiness. The croutons and dates are added into the ice cream at the end of the churn. The brown butter is added in during the steeping process. That's right, there's more!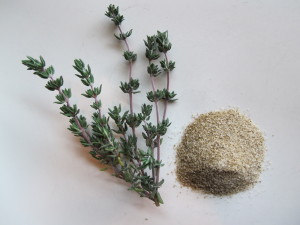 We've never used time in our ice cream, and of course, this seemed like the perfect thyme :). So along with the brown butter, we steep the thyme in our base. This week's base consists of equal parts organic cane sugar and brown sugar. The thyme is strained out before the churn and celery salt is added. We had to. It kind of sounded perfect.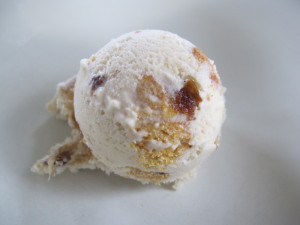 And not surprisingly, it is kind of perfect. FrozBroz Thanksgiving Stuffing – Thyme-infused ice cream with brown butter and celery salt mixed with medjool dates and cornbread and caraway rye bread croutons. We're just trying to start this 2013 holiday season off right.
Want to try it? You can win one of the only two pints in the world, filled with this fabulous, scratch made craft ice cream in our weekly pint giveaway. Enter your name in the comments section here, or on our facebook page under the posted contest. 2 lucky winners will be drawn randomly on Friday 11/22/13 at 4pm. Winners must be able to pick up locally and give us feedback. Pints must be claimed by email within one week or we will redistribute. 🙂 Good luck!