Since local berries are one of our absolute favorite things of summer, its not uncommon for us to do multiple flavors with the same berry.  Especially strawberries. When I began thinking about a new flavor concept for using strawberries, I chose to go the selfish route this time and do exactly what I wanted to eat.  I knew pistachio was going to be one of the components.  I toiled on different sugars or a combination thereof, as well as different forms of cream combinations (sour cream, cream cheese, goat cheese, goat milk, etc – and then it hit me.  We've only done two (!) flavors previous to this with a chocolate base, (3X Chocolate, Georgia Walnut) and we've seriously neglected the chocolate lovers, myself being one of them.  So that was that.  Dark Chocolate, Strawberries and Pistachios.
The chocolate base has a good concentration of cocoa – not quite as much as our 3x chocolate since there needed to be balance with the other flavors, however its still a nice dark chocolate ice cream.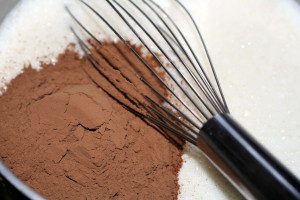 The gorgeous local strawberries were made into a nice thick syrup to be woven throughout the base.
The shelled, roasted and salted pistachios were thrown in during the churn to give a big salty crunch.  The final product is a dark chocolate ice cream, rippled with fresh strawberry syrup and studded with salted crunchy pistachios.
Want to try it? You can win one of the only two pints in the world, filled with this fabulous, scratch made craft ice cream in our weekly pint giveaway. Enter your name in the comments section here, or on our facebook page under the posted contest. 2 lucky winners will be drawn randomly on Friday 7/12/13 at 4pm. Winners must be able to pick up locally and give us feedback. Pints must be claimed by email within one week or we will redistribute. 🙂 Good luck!