OK fine – so we're a little late to the St. Patrick's Day parade, but this flavor was dreamt up in the spirit of the green day of drinking, and we're going to post it anyway.  We've been scheming beer flavors quite a bit over the last few months and released one of our first a few weeks back with the Brown Ale and Bacon Marmalade ice cream.  The original plan for this pint of ice cream was an irish drink using a Guinness base, but the rest of the ingredients ended up changing at the last minute, a decision possibly influenced by a pint (or two) of Guinness.
While preparing a meal of Corned Beef and Cabbage for ourselves and the rest of the Froz family oe'r the weekend, we snacked on this wonderful Irish soda bread along with some Irish cheddar from the Seward Co-op.  Actually, I should rephrase that for factual accuracy -"while Erik prepared a fantastic irish meal of Corned Beef and Cabbage for the rest of us"….anyway, back to the story.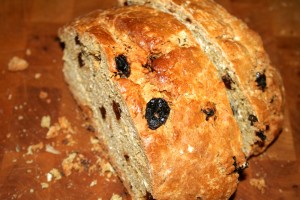 We enjoyed the soda bread so much, we decided to lay waste to the orignal plans and make it a co-star of this week's flavor with the Guinness base.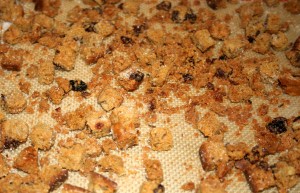 Like we've done many many times before, we cube the soda bread, toss it in butter and sugar, and bake it into crunchy little croutons to add the textural element to the ice cream.  It's like having an ice cream cone built in, except this ice cream cone is made of Irish Soda bread and tastes really good.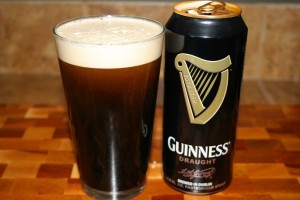 The base of the ice cream was none other than everyone's favorite Irish stout.  To flavor the ice cream we reduce the beer down with some sugar and create an extract of sorts, then mix it in to our standard ice cream base.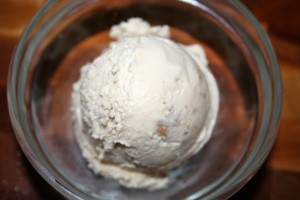 Magically delicious.  A malty Guinness ice cream studded with crunchy bits of irish soda bread.  We call it Irish Soda.
Want to try it? You can win one of the only two pints in the world, filled with this fabulous, scratch made craft ice cream in our weekly pint giveaway. Enter your name in the comments section here, or on our facebook page under the posted contest. 2 lucky winners will be drawn randomly on Friday 3/22 at 4pm. Winners must be able to pick up locally and give us feedback. Pints must be claimed by email within one week or we will redistribute. 🙂 Good luck!