Yes, unfortunately this flavor comes the day after halloween – but apropos nonetheless, in honor of one of our favorite movies The Big Lebowski and those who chose to don the threads of Walter Sobchak, Donny or maybe even the Dude himself as their Halloween costume of choice. If nothing else, this flavor would be perfect for nursing back into working condition those who imbibed in true halloween fashion.
Alcohol is always a tricky one with ice cream because its low freezing temperature messes with the process of the ice cream freezing properly. Conversely, its no fun to make an ice cream based on a drink and not have any alcohol in it. We found a happy middle ground by leaving out the (flavorless) vodka and sticking with a clean cream base and Kahlua as the main alcohol/flavor component.
In order to get it to a point where it was present in the flavor but not wrecking the consistency we chose to use it 2 separate ways. The star would be a caramel (as we are wont to do) made by reducing the Kahlua with sugar into a thick syrup and then thinning it out a bit with some straight Kahlua to get the full flavor with the alcohol.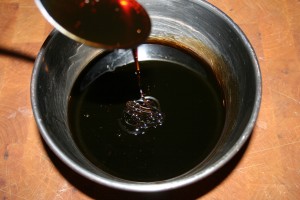 Once finished with the caramel, we moved onto the base.  To represent the cocktail as closely as possible, we went with a straight cream base and used confectioner's sugar to provide an extra clean sweetness, and added a little more Kahlua to the mix to shine through ever so subtly without ruining the cream's ability to freeze.
To finish off, a Filbert of course.  Since any true White Russian isn't served without its hazelnut garnish, we threw in a handful of crushed hazelnuts to provide a little crunch and accent to the sweetness of the cream.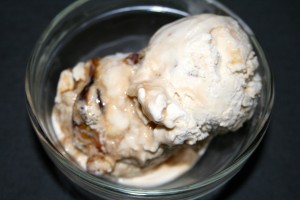 The end result was a perfect match – a simple White Russian cocktail flavored ice cream striped with gooey Kahlua caramel and peppered ever so lightly with a filbert garnish.
You can win one of the only two pints in the world, filled with this fabulous, scratch made craft ice cream in our weekly pint giveaway. Enter your name in the comments section here, or on our facebook page under the posted contest.  2 lucky winners will be drawn randomly on Friday 11/2 at 4pm.  Winners must be able to pick up locally and give us feedback. Pints must be claimed by email within one week or we will redistribute. 🙂 Good luck!