A few weeks back I made a quick one-off flavor for a family gathering that was the genesis of this idea, using our sour cream base and the cinnamon syrup leftover from our Grilled Peach and Cinnamon Syrup flavor.  The combination of the cinnamon, brown sugar and the sour cream base instantly reminded me of a cinnamon roll, and screamed for a treatment similar to the method we used a year ago for the Apple Fritter Apple Fritter flavor.  Meaning it was time to hunt down the best cinnamon roll we could find, which wasn't hard at all.
If you haven't experienced the bakery utopia that is Michelle Gayer's Salty Tart at the Midtown market, you are sorely missing out.  I made a visit with a cinnamon rolls on the brain, but what I ended up with was nothing short of serendipity.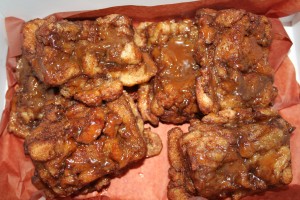 This is Salty Tart's caramel roll monkey bread, and I can be completely honest in saying that this is one of the most amazing pieces of food I have EVER had. I'm talking an immediate nuclear powered rocket to the top of my final meal/stranded on a desert island type of sweet roll that knocked me straight out of my keds.  I was expecting it to be good.  But THIS good?  Wow.
Suffice it to say, as long as we didn't screw this up, we can't really take credit for how good this ice cream really is because a large part of it has to do with this monkey bread.
What was even better, was the assembly of the small pieces into the final product made for a perfect match to get the maximum flavor out of the steeping process, AND for the glorious chunks that would go into this ice cream.  The game plan commenced.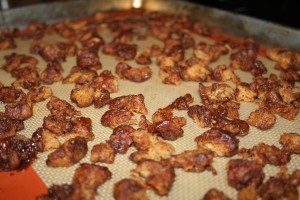 First some of the monkey bread was torn apart and slowly baked off in the oven to make it even more crunchy and help it retain its constitution in the ice cream base.  As we're wont to do.
As the monkey bread morsels were getting their crunch on, we mixed up a sour cream base to best represent the cream cheese icing you would have on a stereo typical cinnamon roll.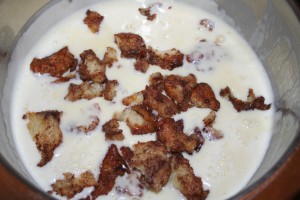 We then took the remainder of the monkey bread and steeped it in the warm cream to soak up the starchy, buttery goodness of the bread.  This process nets not only an ice cream base that actually tastes a lot like the monkey bread, but the starch from the bread leeches into the cream and makes exceptionally silky.
Then, the cinnamon caramel – I realized in making the first iteration of this that I actually preferred the caramel to be grainy – it provided a little crunch and extra sweetness that I liked, so we cooked the syrup to end up with a grain to it- not usually what you want when making caramel.
For the end product the caramel was swirled in amongst the amazing chunks of crunchy monkey bread, all swimming in a silken monkey bread ice cream.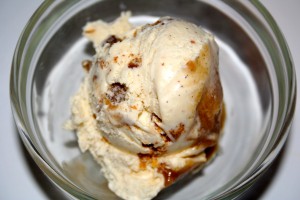 You can win one of the only two pints in the world, filled with this fabulous, scratch made craft ice cream in our weekly pint giveaway. Enter your name in the comments section here, or on our facebook page under the posted contest.  2 lucky winners will be drawn randomly on Friday 10/12 at 4pm.  Winners must be able to pick up locally and give us feedback. Pints must be claimed by email within one week or we will redistribute. 🙂 Good luck!