As a kid, my family would often spend a day of our summer vacation picking wild blueberries along a railroad track in northern Wisconsin, south of Hayward.  We'd endure loads of mosquito bites and hoards of woodticks to earn a few gallon pails full of them, that would usually net a pie or two after we finished snacking.  It was always one of my favorite pies, partially due to its rarity, but mostly because of the incredible sweetness and flavor combined with the dark blue hue of the macerated berries.  I've mentioned these pie memories before – they are landmarks on my brain.
I hoped to get my hands on some of those very wild blueberries for this flavor, but I got the next best thing, which was these beauties from our recent fave Svihel farms from Foley, MN.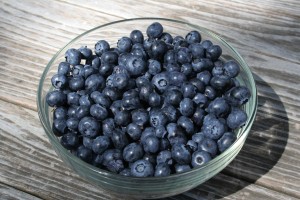 You might remember a few weeks ago when we released the Smoked Bourbon Vanilla Bean ice cream that we mentioned some discoveries while experimenting with vanilla beans on the grill.  One of those discoveries was a charred version which we knew would give us a nice option so we preserved it for future use.
It paired wonderfully with the pie concept and made a nice dark fleck in the ice cream.
The blueberries were reduced with sugar, lemon, cinnamon and cardamom to create the "pie filling".
Then there was the pie crust.  Similar to the deconstructed pecan pie flavor we made last fall, the pie crust was baked off and broken up to go into the charred vanilla ice cream as an add in – floating throughout the pint.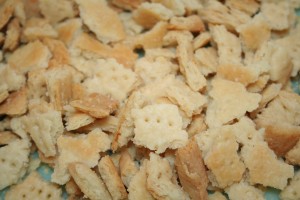 The blueberry filling was layered into the pint to leave thick, ribbons of sticky blueberry jam.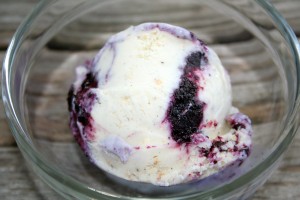 It can be yours.. As we do every week, we'll be giving away two pints of this flavor. Just leave a comment on our facebook page to be entered into the drawing. If you don't have a facebook account, leave a comment right here on the blog. We'll draw two winners on Friday afternoon (7/13/2012) at 4pm and will announce them on our facebook page (or email you if you're comment resides here). Our only conditions are you must be able to pick it up here in Minneapolis, and agree to give us a little feedback that can be shared with everyone else.  Good luck!