We've been talking amongst ourselves over the past couple of months about wanting to collaborate more with some of our friends and fans on creating new flavors. The first collaboration with our friend Heidi Skoog and her Serious Jam was fantastic. We just completed our first fan flavor contest which we'll be releasing next week, but we've also been lucky enough to have more of our compadres in town agree to throw their uber-talent into the mix (no pun intended).  And the first of that crew: Sheela Namakkal, the local cupcake genius affectionately known to us as vice president of everything.  If you stop down to the beautiful Mitre Box Framing Studio on Saturday mornings for "Cupcake Saturdays" (and we HIGHLY recommend you do) you'll know why.  She rules and her cupcakes rule more.
I have been wanting to do a vanilla bean ice cream with chocolate cake for a long time, and when I finally got around to it, Sheela was the first person I called.  And as I expected, I was the one scrambling to figure out how to make the ice cream as good as the ingredients she produced to go in it.
Sheela rocked out some amazing dark chocolate cupcakes.  These babies are as hand crafted as it gets and completed with 100% ScharffenBerger cocoa powder.  They are DENSE with chocolate.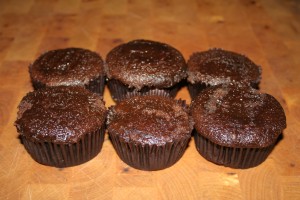 Dreamy.
To pair, she dreamed up some bitterwseet ganache, with a touch of irish cream and more 100% cocoa.
So much chocolate.  So much.
So, it was my job to take this little stash that I so luckily procured, and turn it into ice cream.
First, as you've seen us do before, I disassembled the cupcakes into croutons, which were doused in brown butter, a little salt, and baked in the oven until they were crunchy enough to stand up in the cream.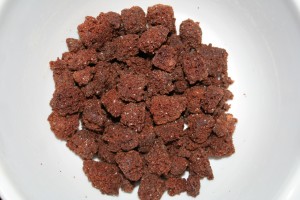 These are far too snackable.
With the cake ready for it's cream bath, it was time to address the cream itself.
We've used many variations of vanilla over the past years, but nothing beats the bean.
To pair with the vanilla, we used our sour cream base to give the typical vanilla flavor a little more depth and tang.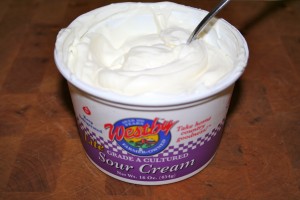 Westby's is a cooperative creamery in Westby, Wisconsin and have been operating for over 100 years.    It has a great flavor and texture, and incorporates seamlessly into our ice cream base.  All sour creams are not equal.
The sour cream and vanilla seeds were mixed into the cream, tossed with the dark chocolate cake croutons and layered into the pints with the bittersweet ganache.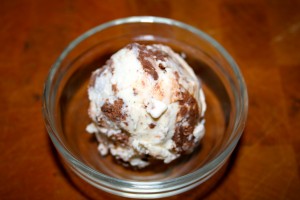 The dimensions of deep chocolate, hints of brown butter and salt, acidity from the sour cream and bright vanilla flavor are right in your face.  And as Sheela would say, they are also "for your face".
Want to try it for yourself?
As we do every week, we'll be giving away two pints of this flavor. Just leave a comment on our facebook page to be entered into the drawing. If you don't have a facebook account, leave a comment right here on the blog. We'll draw two winners on Friday afternoon (3/23/2012) at 4pm and will announce them on our facebook page (or email you if you're comment resides here). Our only conditions are you must be able to pick it up here in Minneapolis, and be willing to give us a little feedback that can be shared with everyone else. Good luck! Also – don't forget about our Indiegogo fundraising – we've got 50 days to go and need all the help we can get! http://www.indiegogo.com/frozbroz?a=446076