Earlier this year, we contemplated using Sriracha in one of flavors. After suggesting the idea, a fan of ours proposed the idea of a Thai peanut. Ever since then peanuts and sri have been swimming through my brain, and although we didn't use Sriracha here, the peanuts in this flavor pack a punch. Spicy Thai Peanut with Candied Lime.
Instead of Sriracha we decided to use Tien Tsin chilies from China. Here they are with lemon grass and limes. These three components along with salt  are what bring life to the peanuts. We chose the Tien Tsin chilies because their spice hits you in the back of the throat. We wanted the the flavor of the cream to hit first and then bring it with a spicy finish. This is no joke folks, these peanuts pack a spicy punch.
The lemongrass, lime zest and chilies get pureed to a pulp in a food processor.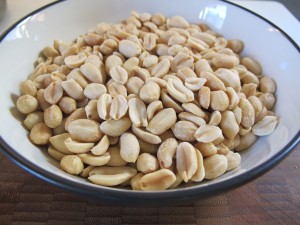 Look: peanuts! We roast em in the oven, drizzle with our reserved lime syrup(see below), and toss with salt and the spicy Thai puree. Then, back in the oven to dry.
Now here is where the reserved lime syrup comes from:
After peeling the lime we chop the zest, cover with water, and bring to a boil a few times to get all of the bitterness out.  We then simmer the zest in a simple syrup until tender. The zest gets tossed with sugar and dried. What's left over is a lime infused simple syrup great for mixed drinks, tea, or in this case, spicy Thai peanuts.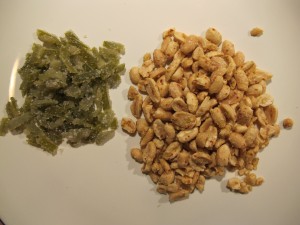 Here's the finished products: candied lime and spicy Thai peanuts. Both are ready to get tossed into the churn.
Spicy Thai Peanut with Candied Lime. Each bite starts with a sweet sugary burst of lime,  and then a crunchy peanut with a spicy finish.
Want to try some for yourself?
As we do every week, we'll be giving away two pints of this flavor. Just leave a comment on our facebook page to be entered into the drawing. If you don't have a facebook account, leave a comment right here on the blog. We'll draw two winners on Friday afternoon (3/16/2012) at 4pm and will announce them on our facebook page (or email you if you're comment resides here). Our only conditions are you must be able to pick it up here in Minneapolis, and be willing to give us a little feedback that can be shared with everyone else. Good luck!