Since we got the breakfast creams started last week, we decided, why not keep a good thing going. This is our second installment of breakfast flavors that are really inspired by the season. The sun is still low in the sky, and all anyone wants to do is lay in bed a little longer, drink coffee, and slowly work your way to making a comforting breakfast. Of course, all while wearing pajamas.
Oats are not something that we've used in our ice cream before. They are high in starch content, and in our past experiences, vegetables high is starch pose bigger challenges to balance texture. In the case of oats, we have found a starch match made in heaven for our ice cream.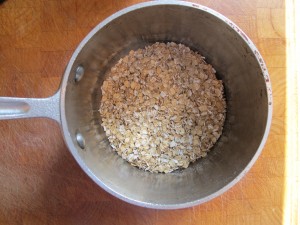 These are the organic regular rolled oats that we purchase at our haunt, The Seward Coop, from Whole Grain Milling Company located in Welcome, MN.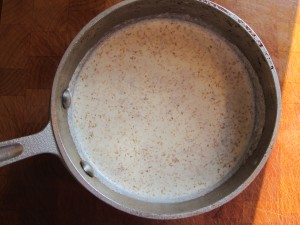 Welcome to our ice cream base oats. This is when the magic starts to happen. We slowly bring our base to a simmer with the oats, and then allow to steep for a few hours. During this cooking/steeping process the oats release their starches into our ice cream base; the same starches that make oatmeal so delicious and creamy. The base gets strained through a fine sieve before getting churned in the maker.
The oats provide a subtle flavor profile that is so familiar yet is almost forgotten because of the texture take over of it's starches.
This is Wild Country Maple Syrup from Lutsen, MN. We incorporate it with some brown sugar and bring it to a quick simmer.
The uncaramelized maple brown sugar sauce is reminiscent of the graininess that brown sugar and maple syrup have when stirred into hot oatmeal. We layer the sauce into the pints.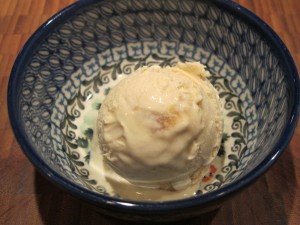 The starch match made in heaven results in a rich, dense, ultra smooth ice cream with a sweet mapley sauce layered in.
Like to try some?  As we do every week, we'll be giving away two pints of this flavor. Just leave a comment on our facebook page to be entered into the drawing. If you don't have a facebook account, leave a comment right here on the blog. We'll draw two winners on Friday afternoon (2/03/2012) at 4pm and will announce them on our facebook page. Our only conditions are you must be able to pick it up here in Minneapolis, and be willing to give us a little feedback that can be shared with everyone else. Good luck!