Happy Thanksgiving y'all! Being Thanksgiving today, it should be of no surprise that our second installment of holiday inspired flavors is non other than pumpkin pie. Or is it a surprise? We just had to. Yes, we could have gone all FrozBroz on you and made a pumpkin feta with fried sage, but we couldn't resist the obvious…it's a Thanksgiving tradition.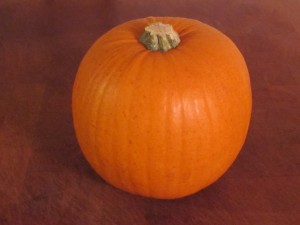 Pumpkin: Probably the most recognized symbol of harvest time here in the United States. For those unaware, that pumpkin in the can comes from one of these beauties right here…which came from Featherstone Farms in Rushford Village, MN.
Roast it, mash it, add eggs, sugar, cinnamon, cloves, ginger and cream. What do you get?
Pumpkin Pie!
Pumpkin has a lot of moisture content, which doesn't react well in ice cream, but after it's baked into a custard pie, no problem.
Pie crust = good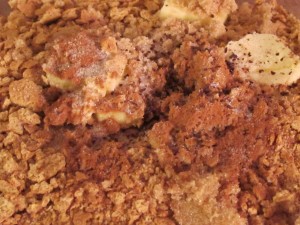 Graham Cracker Crust = Fan-friggin-tastic!
Here we have crushed graham crackers, butter, brown sugar, cinnamon, cloves and salt ready to be mixed up and baked off.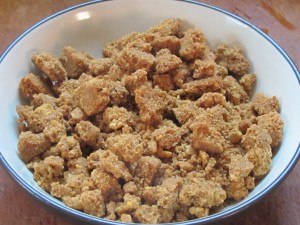 Graham cracker crust – another great stand alone ice cream flavor.
Here we toss it in at the end for a little salty crunch.
It's all here! Pumpkin Pie Ice Cream.
Want to try? As we do every week, we'll be giving away two pints. Just leave a comment on our facebook page to be entered into the drawing. If you don't have a facebook account, leave a comment right here on the blog. We'll draw two winners on Friday afternoon (11/25/2011) at 4pm and will announce them on our facebook page. Our only conditions are you must be able to pick it up here in Minneapolis, and be willing to give us a little feedback that can be shared with everyone else. Good luck!