Birthdays often carry countless traditions. Over time, some of those traditions fade away, but for my father-in-law, there is one birthday tradtion that has stayed with him since his early childhood. After the first taste of his mother's cherry torte, it was a request that never faded when his birthday came around. Now years later Charlotte, his mother, has passed away, but my mother-in-law graciously makes Charlotte's cherry torte recipe, and my father-in-law reluctantly shares his birthday tradition with the rest of his family. So this week, one week after my father-in-law's birthday, I set out to deconstuct and recreate Charlotte's cherry torte in FrozBroz fashion; ice cream style! Let's get started with this week's flavor: Cherry Torte.
Contrary to my wife's family's belief, I actually can reproduce Charlotte's short bread crust with flawless results. This crust is a key component as it adds texture, nuttiness, and the integral buttery flavor of traditional shortbread. To achieve this, sugar, butter and flour are mixed together before adding crushed pecans, at which point the dough is pressed into a pan and baked. After cooling, the crust is broken up into chunks, and for the ice cream, we toss the chunkers in toward the end of the churn.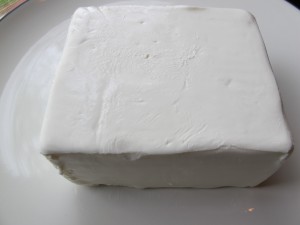 Cream Cheese! The second layer of the torte consists of cream cheese whipped with sugar, vanilla, and whipped cream. For the ice cream, we incorpoarte the cheese and vanilla into our pure cane sugar ice cream base during the cooking process. This sets the stage for an ultra rich cream cheese ice cream base.
Next, the cherry topper! This is where I'm going to break tradtion a little. At this point, the torte could essentially be constructed with a can of sweet cheeries in heavy syrup; crust chunkers fill the bottom of a pan, the cream cheese/whipped cream is spread on, and the canned cherries in heavy syrup top it all off. I made the desision to go with tart cherries in water for the ice cream. I wanted the cherries to contrast the sweet ice cream by adding that tart twist. We puree the tart cherries and water, then simmer down with a bit of cane sugar on the stove top until the cherries reach proper viscosity. The cherry jam is still sweet, but brings that element of tartness. We layer it into the pints during packaging.
The result is a rich cream cheese ice cream studded with pecan shortbread chunkers and layered with a tart cherry syrup jam. This is a FrozBroz tradition that is destined to never fade. Happy Birthday Dan!
Want to try it? You can win one of the only two pints in the world, filled with this fabulous, scratch made craft ice cream in our weekly pint giveaway. Enter your name in the comments section here, or on our facebook page under the posted contest. 2 lucky winners will be drawn randomly on Friday 5/24/13 at 4pm. Winners must be able to pick up locally and give us feedback. Pints must be claimed by email within one week or we will redistribute. 🙂 Good luck!