This week's flavor was built around this fresh walnut preserve I found a few weeks ago made by Harvest Song.  I stumbled across it hidden among a bunch of other specialty jams, sauces, etc. – and plucked it without hesitation.  I've toyed with the idea of nut preserves before, but never actually found it in true form, and never made with fresh (green) whole nuts.
The walnuts are preserved while they are green and fresh, in a simple syrup made of sugar and lemon juice.  Left with their shell on, the walnuts look a lot like olives in this state.  They still taste like walnuts, but very sweet – with a flavor that tastes a lot like molasses.  The texture is semi soft – most of the walnut crunch has faded but there is still enough there that they are not mushy or soggy.  Hard to explain exactly, but reminded me of a nut candy.  I had to make ice cream with them, and decided to pair them with a tangy sour cream ice cream base.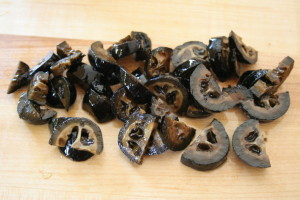 The walnuts were chopped into smaller pieces and then added back into their syrup in preparation for being added into the ice cream.  They still look kind of like olives.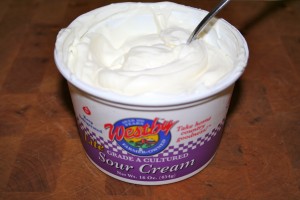 For the ice cream base I chose to use our sour cream base, which provides a foundational flavor very much resembling a traditional cheesecake. We're a big fan of Westby sour cream – and for this recipe I typically use a light version to keep the ice cream from getting too rich.  It's hard to go wrong with these flavors.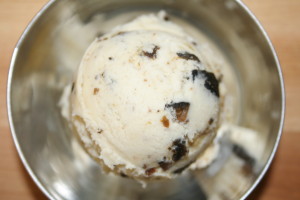 The result is a rich and tangy sour cream ice cream laced with chunks of molasses tinged, freshly preserved walnuts.
Sour Cream with Fresh Preserved Walnut
Ingredients:
2 Cups Heavy Cream
1 Cup Light Sour Cream (I prefer light sour cream for this recipe)
3/4 Cup Sugar
2 Eggs
2 teaspoons salt
1/2 C Fresh Walnut Preserve, walnuts chopped and added back to syrup
Instructions for ice cream:
Crack eggs into a mixing bowl and whisk fully. Add sugar and whisk until sugar and eggs are combined. Add cream, sour cream and salt and whisk again until all are fully incorporated.
Place ice cream base in a pot over medium heat, stirring continuously. Continue to heat mixture until temperature reaches 165 degrees. Remove from heat.  Cool the ice cream base to room temperature (an ice bath will do this in about 15-20 minutes) and then place in a container, cover, and chill in refrigerator overnight.
3.  Churn ice cream base in ice cream machine according to manufacturer's instructions. Add walnut preserve to ice cream in last 5 minutes of the churning process.   Freeze in a tightly covered container for at least 4 hours, preferably overnight if you can wait.  Then, enjoy!
*Yields approximately 2.5 pints
If you'd rather not make it, you can be one of two lucky winners of this fabulous, scratch made craft ice cream in our weekly pint giveaway. Enter your name in the comments section here, or on our facebook page under the posted contest. Two winners will be drawn randomly on Friday 3/20/15 at 4pm. Winners must be able to pick up locally in Minneapolis. Prizes must be claimed by email within one week or we will redistribute. 🙂 Good luck!